Nigeria :: News
Twin sisters married one man because they couldn't live without each other
Jan 11, 2021
By: Abara Bleesing Oluchi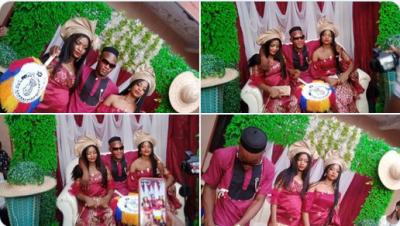 While it is common to hear about win siblings who are inseparable, it is not everyday one gets to see twins getting married to the same person.
Twin sisters get married to one man because they couldn't live without each other The twin sisters got married to the same man recently.
Well, this appeared to be the case for two sisters who recently walked down the aisle with the same man. Photos and a video from their traditional wedding ceremony were shared by Nelson Obidon on Twitter.
According to him, the twin sisters had a good reason behind their decision to settle with one husband.
They did not want to spend any time apart. Dressed in similar maroon and gold coloured ceremonial outfits, the 'throuple' posed for photographs together.
Although there were hardly any smiles, the twins danced with pleasure as they received money from happy guests.
Their husband who spotted a pair of sunshades was proud of himself and smiled like a satisfied king.
Recall that American twins Brittany and Briana Deane were both married to identical brothers, Josh and Jeremy Salyers, in a double wedding back in August 2018.
The two sets of twins shared the news on Instagram with a picture of a beach-themed photoshoot.
The pair both expressed how they could not wait to welcome the little ones who would not only be cousins but also genetically, they will be siblings.
Headlines (Nigeria):
Read our other news items below...