Nigeria   ::   News
Apapa Gridlock: Nigerians laud Osinbajo, Sanwo-Olu, Hadiza Bala as sanity returns with commencement of electronic call-up
Feb 28, 2021
Source: CEOAfrica News: Reported by- Prince Lawrence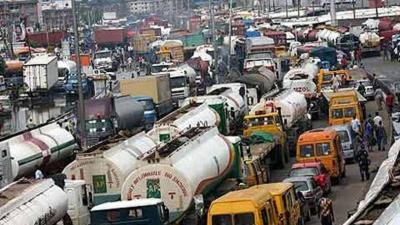 Nigerians have commended Vice President Yemi Osinbajo, Lagos State Governor Babajide Sanwo-Olu and Managing Directorof the Nigerian Port Authority, Hadiza Bala Usman for the efforts they have put in to return sanity and free flow of movement on the Apapa road.
Apapa had in the past several years defied effort to solve its traffic problem.
However, normalcy returned to Apapa following the removal of trucks that littered the port access roads – Apapa Oshodi Express Way and Western Avenue leading to Ijora.
Recall that the Vice President Osinbajo had had promised to resolve the Apapa traffic gridlock.
"I presided over a Govt/Private sector meeting on how to resolve the Apapa traffic gridlock. Last week, I flew over the Apapa for an aerial assessment of the situation," he said in one of his tweets concerning the gridlock.
The Lagos State Government had also disclosed his efforts in ensuring the free flow of traffic on the road.
Sanwo-Olu on February, 23rd on his verified twitter handle @jidesanwoolu wrote: "To bring sanity to Apapa and ensure the free flow of traffic within and around the port, I met with the MD of the Nigerian Port Authority on the new Truck Call-Up system that will become operational from next Saturday.
"This will be the beginning of a better journey time for our citizens within the Apapa seaports and environs. This electronic system has limited interface with security operatives and unions, which usually cause the gridlock problems.
"In enforcing the new regulations, we are deploying more than enough towing vehicles to impound erring trucks. The amount to be paid as a fine for flouting the call-up system will be an adequate deterrent for drivers not to repeat it.
"Stakeholders need to understand that we are serious about ridding Apapa of the menace of trucks parked indiscriminately and we are working collaboratively with NPA to bring back a better living experience for residents in Apapa."
Now, it has been confirmed that the Federal Government and the Lagos Government had fulfilled the promises.
Nigerians have taken to the twitter and applauded the governments for fulfilling their promises by finding solution to the Apapa traffic gridlock.
See comments below:
@xagreat: While PDP where recruiting criminals and bigots, Hadiza Bala Usman of NPA have successfully ended the almighty Apapa gridlock. May it be sustained forever.
@jeffphilips1: This Apapa gridlock story, some persons illegal billions of Naira have been jeopardized and they'll soon join in the wailing.
@B_ELRUFAI: @HadizaBalaUsman appreciation tweet. The Apapa Port will likely have stayed congested if it was not for you. We appreciate our reform minded Iron Lady. PMB deserves full credit for this appointment.
@JackObinyan: Political Will, Technology and Infrastructure has finally eradicated the 'almighty' Apapa Gridlock. The monumental bribery & corruption taking place there has been tremendously cut to size. Let's see how this will affect commodity prices going forward.
@WaleMicaiah: Dear VP @ProfOsinbajo & Mr. Governor @jidesanwoolu, I can testify that roads leading to Apapa now wear a new look.The containers on the bridges are far from sight and driving through Marine Beach today was a new experience.
@OgundeleTeju: Dear @ProfOsinbajo Thank you for keeping to your promise,Apapa is breathing fresh air. Gone is the tyranny of the trucks who held it by the throat.
@banterqueen: Today, Apapa is free because of this bold step you took. The dreaded Apapa gridlock is finally free and sanity has been restored. A laudable one indeed! #ApapaDelivered
@medoosa: 1. Apapa Rail Extentension completed 2. Cargo Terminal & Tincan Trailer park Built 3. New electronic call-up system which permanently solves the age-long gridlock problem!
Same energy we used to bash this tweet should be applied to praising this man now! #ApapaDelivered
@Adebolababatun: OSINBAJO THE PACESETTER made this happened. Thank you Vice President Yemi Osinbajo, good job Gov Sanwoolu. Sanity has returned to Apapa #ApapaDelivered
@iameneji: Thank you, @hadizabalausman Thank you, @jidesanwoolu Thank you, @nigerianports: The backbone of the corruption called Apapa gridlock has been broken
@Thomas2blessing: Only OSINBAJO THE PACESETTER can make promise and fulfill it. Apapa gridlock wear a new look. #ApapaDelivered.
@MidasHand7: I'm very sure so many of us are not happy for this progress at Apapa. VP Osinbajo has delivered the best. And a very big thanks to Sanwo-Olu too and everyone who worked on this project.
@JayTise: I have been seeing testimonials of Apapa and it's safe to say the efficient, smart thinking Vice President who is people-passionate has once again delivered. Raising hands. Wailers have lost their voice once again.
  Headlines (Nigeria):
Read our other news items below...