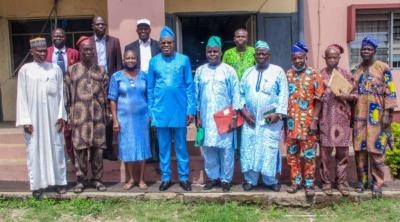 Oyo SUBEB solicits partnership with stakeholders for improved basic education
By:
Sun, 3 May 2020 || Nigeria,
The Chairman of Oyo State Universal Basic Education Board (SUBEB), Dr. Nureni Adeniran, has requested the partnership of the National Parents Teachers Association of Nigeria (NAPTAN) and other stakeholders in the education sector in order to improve teaching and learning at the basic education level in the state.
Adeniran the made the call for partnership while receiving members of NAPTAN at the board's headquarters in Ibadan.
He described the association as an integral part of the transformation process in the basic education sector of Oyo State, adding that their influence would amplify government's policies and programmes in the basic education sector to its members.
The SUBEB Boss asked for collaborative ways of improving basic education in the state, noting that the government is set to work hand-in-hand with the association to ensure an all-inclusive administration in public schools.
He further revealed that the Oyo State Government plans to leave the basic education sector better than it met it, adding that the administration of Governor Seyi Makinde is committed to its zero tuition/fees policy.
Dr. Adeniran stressed that parents and teachers under the aegis of NAPTAN could emulate alumni associations by contributing to the development of schools in the state.
He reiterated that under no circumstance should a pupil or parent be mandated to contribute any amount.
"Oyo State government has many plans for our primary schools. In this state, basic education has been declared free, compulsory and accessible for all pupils within primary school age by Governor Seyi Makinde.
"Yes, parents and teachers' association in schools may decide to contribute to the development of education in our schools; government does not frown at it. But Government severely frowns at anyone hindering our children from learning because he or she cannot meet up with any fees," Adeniran stressed.
He also disclosed the plans to digitise teaching and learning in schools and as the number of pupils' population increases, and solicited the support of interest groups like NAPTAN.
Leader of the delegation, Oyawale Isaac Adebayo, expressed NAPTAN's readiness to collaborate with Oyo SUBEB in ensuring maximum security is obtained in primary schools across the state.
Adebayo also sought the permission of the board to have a day seminar for parents and teachers in the state on their responsibilities towards children, stressing that the association would ensure that its members do not compromise standards set by Oyo SUBEB under any circumstance.
Back to News