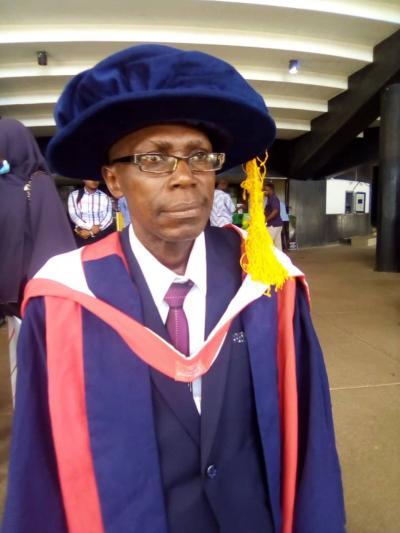 Prof. Samuel Olakojo Urges FG on Funding of genetic Improvement of crops
By:
Wed, 12 May 2021 || Nigeria,
Wednesday, 12 May 2021: The Federal Government has been urged to consider appropriating more funds for genetic improvement of crops especially maize rather than spending heavily on fertilizer that will not increase yield beyond its inherent potential.
Delivering the 353rd Inaugural lecture of Obafemi Awolowo University, (OAU), Ile-Ife, Nigeria at the Institution's Oduduwa Hall, Prof. Samuel Adelowo Olakojo, a Professor of Plant Breeding and Applied Genetics, Maize Improvement Programme, Institute of Agricultural Research and Training, (IAR&T), who gave the advice said no matter the amount spend on fertilizer, crops like maize cannot yield more than its inherent potential, hence the need to invest substantially on genetic improvement of crops.
The inaugural lecture is with the theme: "Plant Breeding and Applied Genetics: Probing Crop Genes for Mankind".
According to him, "Maize like other crops will not give yield beyond its inherent yield potential, regardless of how much of inputs is lavished on it. The message here is for government and other policy makers to re-consider appropriating more funds for genetic improvement of crops especially maize rather than spending heavily on fertilizer that will not increase yield beyond its inherent potential.  Since maize is such a crop that allows gene manipulation easily for many traits of interest."
He also advocated for the promotion of technologies generated from researches about high yielding crop varieties such as maize, popcorn, sorghum, and tomato noting that these should be adopted and integrated into the national agricultural system for the benefit of mankind; and to boost production under the present dispensation where agriculture is lending itself to revolutionize the Nigerian economy.
Olakojo said in his researches that spanned about three decades, he had investigated environmental factors that support maize production in many parts of Nigeria especially the south western Nigeria and his findings from these studies indicate that location effect, rainfall distribution, establishment count, ear harvest and plant height are important yield contributors to maize grain yield.
He then urged farmers to be conscious of the fertility status of the soil, the rainfall distribution and recommended plant population density for enhanced productivity.
"These of course are more important than yield potential of the variety per se. In fact, the prevailing maize diseases of south western Nigeria is only reducing yield by less than 2% because maize developed and released are all generally resistant to foliar diseases of maize," he explained.
According to him, bacterial wilt of tomato is still a major problem across the globe stressing that resistant varieties developed for temperate environment could not survive in Nigeria because the pathogen strain of the wilt in the tropical ecology is more virulent than that of the temperate.
He revealed that Sorghum with multiple use had been discovered.
"These exotic sorghums possessed higher grain yield, short stalk, photoperiod neutral, and with multiple uses.
"Grains is for food, leaves for folder, and stalk for sucrose production. Its stay green ability provided opportunity for the above multiple uses. Our local sorghums with long stalks are good for staking, while varied grain pigmentation makes them useful for dyeing in leather technology and herbal medicine.
"The brewery industries may find the dwarf, photo period neutral and large grain size with resistance to bird pest very ideal as a replacement to barley, maize, and local sorghum for malting in brewing of beer and malted-drinks. These will be cheaper, affordable and capable of creating wealth and jobs especially for the teeming youth of Nigeria," he explained.
Speaking on the importance of Inaugural Lectures, the University don said the objective of Inaugural Lecture is to provide an opportunity to newly appointed Professors to present a Public Lecture relating to their field of study.
He stated that it is obligatory that a Professor of Obafemi Awolowo University should deliver his/her inaugural lecture within five years of becoming a Professor.  I was pronounced a Professor in January 29, 2016 though effective from October 1, 2009. "It is therefore, a privilege for me to highlight the path that eventually led me to becoming a Professor in this prestigious University," he added.
Highlighting his achievement in the academia, he said "In the area of capacity building and training at the level of middle-man power, I have successfully organized four sessions of training on seed production, marketing and distributions for not less than 200 participants in collaboration with Prof. Sola Ajayi and other relevant scientists in other research institutes and Universities in Nigeria. These trainings have benefited seed companies, farmers, policy makers and governmental agencies that are agriculturally related, so as to marry gown and town together as partners in progress to ensure food security, food sustainability and regular supply of agro-raw materials to relevant industries."

He thanked the IAR&T for the opportunity given to him to expatiate his research works.
In his words, "The Institute of Agricultural Research and Training by my personal assessment is a place of huge opportunities where multidisciplinary research is the essence of her establishment. I was therefore privileged to work with people from various discipline and background which exposed me to wide range of multidisciplinary technical knowhow of other disciplines outside my career as a geneticist and plant breeder. I was equipped with practical and guidelines of setting experiments as done by entomologist, pathologist, seed scientist, while my reasoning aligns with the economist in all I do.
"The opportunity of working in almost all representative agro-ecologies of Nigeria was also an additional advantage, the Institute covers high rainforest, rainforest, derived savanna and southern guinea savanna, thereby providing the outlet of testing my varieties for adaptation to all of these ecological zones by virtue of substations and experimental sites established and fully funded by the institute. This is an uncommon opportunity in many research stations. Locations such as Ikenne, Ilora, Ile-Ife, Ilorin, Kisi, Orin-Ekiti, Eruwa and Umudike therefore dominated the testing locations in many of my publications. It provided me with robust data, G x E assessment of the crop bred, and good numbers of genotypes for release where location-specific adaptation presented itself as basis for release.
"Similarly, the Institute provides research facilities, such as screen houses, large experimental fields that accommodate large plot size, minimizes degree of error, as well as laying culture and foundation for applied, demand-driven research for quick adoption by farmers and stakeholders. This often brings about meaningful impacts that stimulate my enthusiasm as a scientist.
"The Institute equally provides the opportunity for critical and analytical reasoning to fashion out research with little interference to enable any scientist work freely but not outside his or her mandate. These with other mentorship opportunities had actually contributed to my findings being presented now in this inaugural lecture."
The Vice Chancellor of Obafemi Awolowo University, Ile Ife, Prof. Eyitope O. Ogunbodede
chaired the Inaugural lecture with retinue of academia, researchers and PhD students in attendance.
CEOAFRICA reports that the inaugural lecture with the topic: "Plant Breeding and Applied Genetics: Probing Crop Genes for Mankind" is the  second inaugural lecture in Plant Breeding and Genetics, as well as the fifth one from the Institute of Agricultural Research and Training, among many that had been delivered in OAU.
Back to News