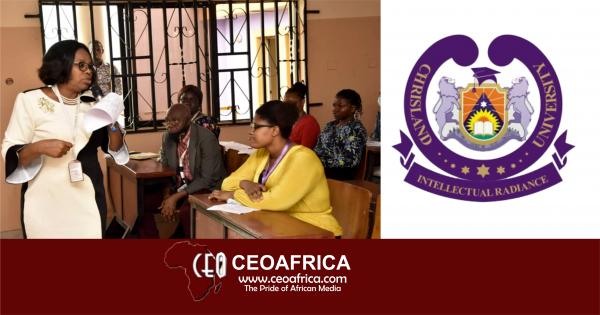 Chrisland University VC, Prof Babalola declares 2-week intensive and specialized entrepreneurship training for final year open (Photos)
By: Abara Blessing Oluchi
Fri, 13 Aug 2021 || Nigeria,
FRIDAY- 13th August, 2021: The Vice Chancellor of Chrisland University, Abeokuta, Professor Chinedum Peace Babalola on 10th August 2021 declared a 2-week intensive and specialized entrepreneurship training for final year students of the institution opened.
The training is specifically designed to enhance the employability of the students and also equip them with skill sets to become successful entrepreneurs.
The VC while declaring the program open, admonished the attendees to take the training very serious and ensure they enjoy all the benefits it presents.
Babalola stated that the training program is a way of getting the students prepared as they are on their way to the larger society.
Driving home the importance of preparedness, she narrated the parable of the 10 virgins as recorded in the Holy Bible: Matthew 25.
As reported in the Holy Bible, while 5 of the 10 virgins were ready to receive the bridegroom, the other 5 were not ready. She charged the students to represent the group of 5 wise virgins who had their lamps ready while waiting for the bridegroom.
On his part, the director of the Centre for Entrepreneurship Development Studies (CEDS), Dr Babatunde Agbi, while welcoming the students to the program, encouraged them to be punctual and demonstrate the desire to take their destinies in their hands.
The 2-week entrepreneurship program which is expected to round off on 19th August 2021 will see the students complete a hands-on capstone project and a bankable business plan.
See photos below:
Chrisland University VC, Prof Babalola declares 2-week intensive and specialized entrepreneurship training for final year open
Chrisland University VC, Prof Babalola declares 2-week intensive and specialized entrepreneurship training for final year open