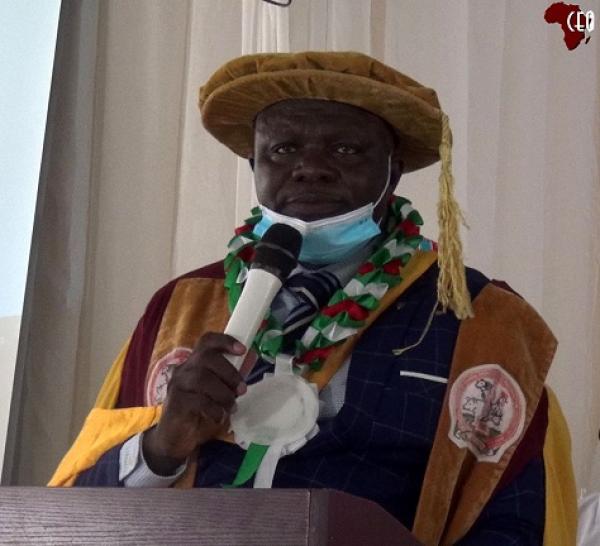 'Know the importance of Agriculture and encourage your wards to pursue their dreams',Dr Owosibo tasks Parents
From: Kelvin Ugochukwu Ubaka
Wed, 13 Oct 2021 || Nigeria, ibadan

Wednesday 13th Oct.2021: The Provost, Federal College of Animal Health And Technology Dr. Adekoya Olatunde Owosibo has stressed on the need for parents to know the importance of Agriculture and encourage their wards to pursue their dreams in the field.
He made the call during the College's Convocation ceremony held yesterday in Ibadan.
Owosibo said "I want to encourage parents to know that agriculture is a modern profession that is very important to man existence, because man will continue to eat food, industries will always need raw materials from agriculture, products of agriculture run our day to day lives as humans, in view of this I am urging parents to encourage their wards to join the profession instead of barring them from it".
In the same view, the Regional Director of the Federal Minsitry of Agriculture, Dr. (Mrs) Omolara
Folasade Oguntuyi, described Agriculture enormous and a money spinning business that young Nigerians should embrace. She said, "Agriculture and farming has gone beyond rural farming,its now a large scale business, you should know that without farming there is no Nation. For our Nation to be food secured we need to farm, I am calling on the youths to embrace farming. The businesses therein is enormous, as long as you are hardworking you will succeed in the farming line. The bottom line is hardwork, I encourage our Nigerian Youths to be hardworking."
Nath olaiya, Deputy Registrar of the Institute advised graduants to be hardworking and should consider being self employed instead of looking for jobs.
On his take about the parents acceptance of their children studying Agriculture and farming Olaiya said "It is good for parents to have a say in some aspects of their children's life decision because we have more experience but imposing your decision or interest as a parent is wrong"
He concluded by advising the Government to ensure that all the Budgeted funds for agriculture get to the right places and individuals so that agriculture can become very lucrative which will in turn attract the youths of the Nation to embrace it.
An elated Parent of one of the graduating students, Chief Olasupo Babatope said he was happy when his daughter got admitted into the Institution being an Agriculturist himself,he also advised the students saying "they have to put what they have learnt in school into practice,there is no need for them to start looking for jobs and being lazy".
A National Diploma (ND), 16/17 Animal Health&Production graduating student, Micheal Adedamola was full of praises for the Institution saying " the school is a virue of Excellence,the teachings and facilities have made it a Haven to groom students. I learnt a lot from this school and built myself generally,it's a Citadel of Excelllence".
Another parent Ishola Blessing, whose daughter graduated as the Best in Department said she was full of joy, advising the students to embrace all other means of practicing what they learnt in school.
A Higher National Diploma (HND) graduating students Yekini Isiaka Alausa whose daughter also graduated advised adults to be self reliant saying "there is no age level to Education,if you train yourself and get educated there will be no stumbling for you training and educating your children."
He ended by describing agriculture as a sector that creates a lot of jobs and is putting food on the tables of many homes therefore urging youths to embrace it.

Back to News