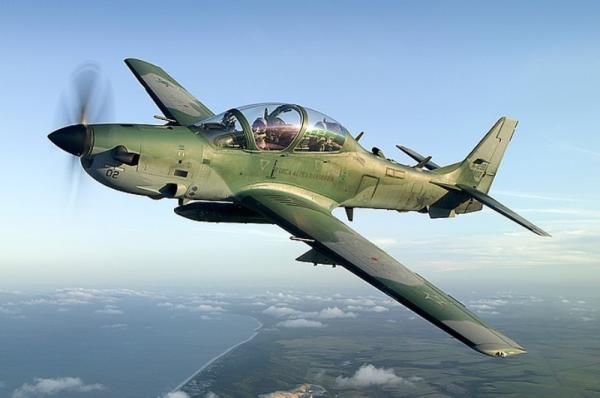 MASSOB expresses worry over Government's Tucano fighter planes
From: Kelvin Ugo Ubaka
Sat, 23 Oct 2021 || Nigeria, Anambra
Saturday 23rd Oct.2021:The Movement for the Actualisation of the Sovereign State of Biafra (MASSOB) has disclosed that it fears the Federal Government will deploy the Tucano planes to attack Igbo youths agitating to secede from Nigeria.
The group said the worry of its members was triggered by the killings and burning of houses in Igbo communities by the personnel of the Nigerian Army in Imo State in the name of reprisals.
The spokesperson for MASSOB, Samuel Edeson, told one of our correspondents in a telephone interview that many innocent Igbo youths had been killed by security agents.
He added, "The Fulani herdsmen have been terrorising the entire Southern and Middle Belt region but the Federal Government has not tagged them terrorists or send soldiers after them. Their agenda is to annihilate Ndigbo and take over our God-given land but one thing is sure, evil will never overcome good."
It will be recalled that the Federal Government had ordered 12 A-29 Super Tucano aircraft to aid its war against Boko Haram terrorists in the North-East. The aircraft were said to have cost $423m.
On July 22, 2021, the Nigerian Air Force said in a statement by its spokesperson, Air Commodore Edward Gabkwet, that the first batch of six of the Tucano aircraft arrived at Kano at about 12:34pm.
Those who received the aircraft were the Minister of Defence, Bashir Magashi; Chief of Air Staff, Oladayo Amao and the Chief of Army Staff, Farouk Yahaya, among others.
Also, on October 18, 2021, the Minister of Information and Culture, Alhaji Lai Mohammed, said the remaining six had been received and had been deployed to the North-East.

The minister had disclosed in an interview that, "All the 12 Super Tucano fighter jets have been received. As at this morning, all the 12 were here and they have been deployed to the North-East.
"We can see that the Tucano jets are actually game changers. Most of the successes we have recorded in recent times is because of the acquisition of new platforms, not limited to the super Tucano."
Back to News