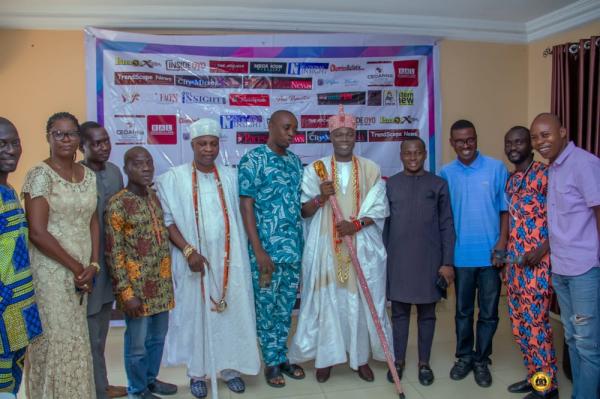 Popular Yoruba Monarch urges Nigerians to support the Military in their fight against terrorism
From: Kelvin Ugo Ubaka
Fri, 19 Nov 2021 || Nigeria, Oyo

FRIDAY- 19th November, 2021: A Yoruba Monarch, In Osun State, His Royal Majesty, Oba Dr. Adekunle Oyelude Makama, the Olowu of Owu Kuta, Tegbosun III, has called on Nigerians to support the Military in their quest to battle terrorism.
Oba Makama made the call today in a breakfast media chat held in Ibadan, Oyo State, with members of the South-West Group of online Publishers (SWEGOP).
The traditional ruler who is one of the vibrant Monarchs in Osun State and Nigeria said that Military officers make alot of sacrificies by obeying the call of duty to fight for the sovereignty and continuous coexistence of the country.
While calling on the Federal Government to allow autonymy of local government, he noted that all happenings on insecurity are locally conceived.
He said "the management of security of a country like ours goes beyond government alone, but the major responsibility rest on the government.
"With this in view, the local government administration should be strengthened and given autonomy .If the local government, lack autonomy, we will still not get to the root cause of insecurity because all security issues are local.
"In the 774 local government areas that we have in the country, we have a DPO, we have a SS officer, we have a traditional ruler, and we have a civil defence office which means it becomes easier for intellingence gathering and sharing at that level, while funding of those intelligence will also be easier when local government have full autonomy."
The olowu of owu kuta also urged the federal government to increase the annual budget on security stressing that some countries in Africa who are not battling insecurity still spend more on securing their borders.
He further advised Nigerians to stop politicizing security adding that we as citizens should always speak out when they see.
"we as citizens should stop politicizing security issues, insecurity doesn't know your political party, religion or beliefs.we should always be citizens that speak out because that is how intelligence is being gathered.
" when you go to Europe and America, their elderly and retirees are always vigilant, they even know new faces in the environment and her first to call on the police whenever they notice strangers lurking around."
The media chat had in attendance representatives of several online media agencies including CEOAFRICA.
The well known monarch who will be celebrating a decade in office next year also talked on life as a traditional ruler and some of his achievements overtime.
Oba Makama, who has solid links with some of the power players in the South-west disclosed that his connections even before he assumed office has helped him in the running of his kingship and promotion of welfare to better the life of his people.
Back to News