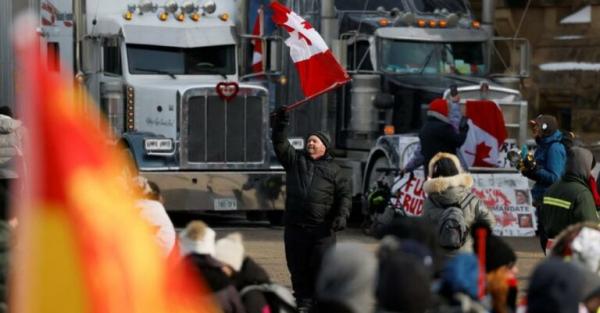 Anti-vaccine protests spread in Canada
By: Cletus Sunday Ilobanafor
Sun, 6 Feb 2022 || Nigeria,
Canadian cities, including the financial hub Toronto, faced disruptions on Saturday as protests against vaccine mandates spread from the capital of Ottawa.
The so-called "Freedom Convoy" began as a movement against a vaccine requirement for cross-border truckers, but has turned into a rallying point against public health measures and Prime Minister Justin Trudeau's government.
"We're all sick and tired of the mandates, of the intimidation, of living in one big prison," said Robert, a Toronto protester who did not give his last name.
"We just want to go back to normal without having to take into our veins the poison which they call vaccines."
Protesters have shut down downtown Ottawa for the past eight days, with some participants waving Confederate or Nazi flags and some saying they wanted to dissolve Canada's government.
The well-organized blockade, which police say has relied partly on funding from sympathizers in the United States, saw protesters bring in portable saunas on Saturday to combat frigid temperatures.
One man rode through the area on horseback, carrying a Trump flag, social media videos showed.
The former U.S. president has spoken out in support of the truckers against "the harsh policies of far-left lunatic Justin Trudeau who has destroyed Canada with insane COVID mandates."
Toronto police ramped-up their presence in the city and closed a major downtown avenue, which is home to several hospitals, fearing protesters would otherwise impede access. Entry was limited to hospital staff, patients and family.
About 500 healthcare workers and supporters rallied in downtown Toronto, near the site of the planned trucker convoy demonstrations, according to a Reuters eyewitness.
Several Toronto healthcare workers said they received advice from their hospitals to not wear hospital scrubs in public in light of the protest. Police said this was not their advice.
Back to News