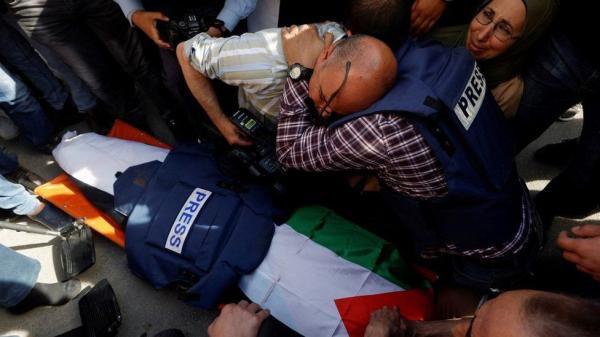 Al Jazeera journalist killed in Israeli-Palestinian conflict
From: Agency Report
Wed, 11 May 2022 || Israel, Israel
Sherine Abu Akleh, an Al Jazeera journalist, has been reportedly killed while covering an Israeli raid in the occupied West Bank town of Jenin, a Palestinian city, in the early hours of Wednesday.
The 51-year-old journalist, who was born in Jerusalem began working for Al Jazeera in 1997 and had reported on-camera from across the Palestinian territories.
The journalist, who was fully kitted in a protective press vest, was said to have been shot in the head by Israeli forces.
According to Al Jazeera, the circumstances surrounding Akleh's death is yet unclear but videos of the incident show that she was shot in the head.
"What we know for now is that the Palestinian Health Ministry has announced her death. Shireen Abu Akleh, was covering the events unfolding in Jenin, specifically an Israeli raid on the city, which is north of the occupied West Bank, when she was hit by a bullet to the head," Al Jazeera reported.
Ali al-Samodi, another journalist, who reports for Jerusalem-based Quds newspaper, was injured by a bullet.
Reacting to the death of Akleh's on Twitter, the Israeli military confirmed that there was a raid at the West Bank, adding that the forces are investigating if journalists were shot during the clash with Palestinian gunmen.
"In the last few hours, IDF and Israeli security forces conducted counterterrorism activity to apprehend terrorist suspects in the Jenin Refugee Camp," the Israeli military wrote.
"During the activity, tens of Palestinian gunmen fired at and hurled explosive devices toward the soldiers. The soldiers responded with fire toward the gunmen and hits were identified.
"The IDF is investigating the event and looking into the possibility that journalists were hit by the Palestinian gunmen.
Yair Lapid, Israel's foreign minister, said it had proposed a joint investigation into the death of the reporter, noting that journalists must be protected at all cost.
"We have offered the Palestinians a joint pathological investigation into the sad death of journalist Shireen Abu Aqla. Journalists must be protected in conflict zones and we all have a responsibility to get to the truth," he wrote on Twitter.
"Israel's security forces will continue to operate wherever necessary to prevent terrorism and the murder of Israelis."
Back to News