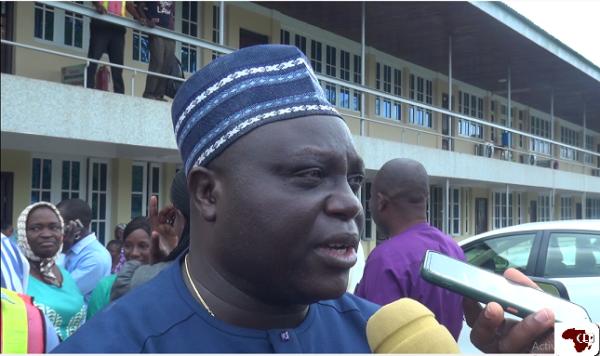 CRIN Executive Director, Dr Patrick Adebola calls for more support on sustainable research for food security
By: Abara Blessing Oluchi
Fri, 17 Jun 2022 || Nigeria,
The Executive Director, Cocoa Research Institute of Nigeria (CRIN), Dr Patrick Adebola, has called for more support from the Federal Government on sustainable research towards food security in Nigeria.
Patrick made the call at the just concluded 2022 In-house Research Report meeting of CRIN, which began on Tuesday and ended on Thursday.
The theme for this year's 'In-house Research Report meeting' was: 'National Economic Empowerment through Sustainable Research and Development of Cocoa, Cashew, Coffee, Kola and Tea.
According to Adebola, Nigeria and the rest of the world had been experiencing a crisis, which had adverse effects on the availability of food.
Speaking on the theme, he said "We at our in-house research review meeting specifically chose this topic so as to address the issue of food security.
"Addressing the issue of food security has to be through research because if there is no research focus there is no way we can increase food production, or ensure that the food we are producing are nutritional, and ensure increased yields by farmers.
"Sustainability in terms of our research because research has to be continuous as we have to keep producing new varieties of crops to sustain the economy and food production in the country," he said.
The ED identified lack of extension services to farmers as a huge gap, as there were lots of technologies that could benefit fares that had been developed but due to the fact that the farmers are scattered all over the country and dearth in the number of Extension officers they were unknown to farmers.
"To bridge this gap, CRIN from time to time organises lots of training and workshops to reach the farmers.
"But I will enjoin the government to still support us so that we will have more extensionists that can take all the technologies back to the farmers for them to be able to adopt it.
Also, Dr Rasheed Adedeji, the Director Program Leader in charge of Cocoa Research Program, CRIN said Nigeria has hope but all the stakeholders have to come together and face issues in cocoa production squarely to achieve results.
He traced issues in agricultural production generally in Nigeria to the discovery of Petroleum products; "Nigeria, which used to be the second largest producer of Cocoa lagged behind and now ranks among 4th to 6th positions in the world."
Adedeji said the efforts of the government to increase revenue from the non-oil sector had brought about the development of new Cocoa varieties by CRIN to reduce its long gestation period from 5 years to 24 months, thereby increasing its profitability for farmers.
"CRIN reaches out to farmers to transfer technology, teach them new methods of cultivation of our crops and give them new varieties that are far better than the hitherto old varieties.
"If the government can support us further by subsidising planting materials and the farmers are having the training on the new methodology this will reposition Cocoa production in Nigeria.
"We need a lot of funds to do this; reach out to farmers to teach them and provide them with new varieties of planting materials and monitor them. We are going to regain the past glory and generate foreign earnings," Adedeji said.
Alhaji Saliu Imam, Oyo State Chairman, Coffee and Tea Association Nigeria coffee and tea are one of the most undervalued and unrecognised cash crops in the country.
Fortunately they are the most valued cash crops anywhere in the world. If Cocoa is sold at N1000 per Kilogram, Coffee is N3000 per Kilogram and it is always in demand.
He said financial institutions should fund production of Coffee and Tea to increase production so as to complement the efforts of CRIN as there is so much left to be done.
Also, Mr Joseph Akintola, Chairman, Oyo State Cocoa Farmers said there had been tremendous increase in Cocoa production.
He noted that the association has over 6000 members including youths who are languishing over lack of Cocoa seedling, land for Cocoa production.
"We want the government at all levels to rise up to the plight of Cocoa farmers in Oyo State especially by providing inputs for farming as more youths are showing interest," Akintola said.

Back to News