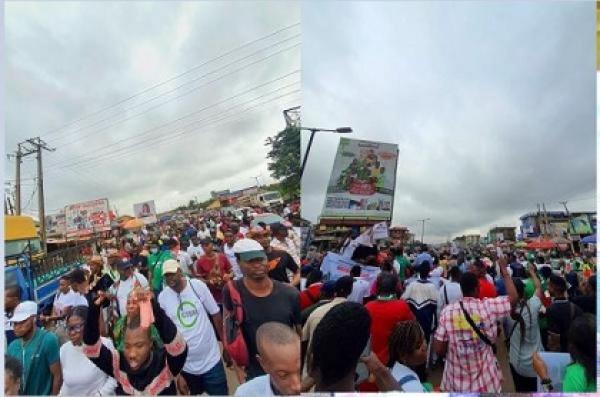 Just In: Peter Obi's One Million Match hits Enugu (Video & Photos)
By: News Editor
Sat, 10 Sep 2022 || Nigeria, Enugu
The Train of the "Obidient" Movement, has today hits Enugu, the Capital city of Enugu state, as many Youths in their numbers are moving round the City, singing and dancing.
At one of the locations where the joyous Youths converged, many residents were seen expressing optimism at the ability of Obi's candidacy to restore hope for the Common man in Nigeria.
According to one of the youths who shared his joy, "It is Peter Obi or nothing. We can't continue like this as a nation. Look at the rising cost of goods and services as well as the rate of unemployment. Many people are losing their jobs daily. These old men do not have our interest at heart, that is why they do not care about the insecurity."
Another added that, "The hardship in the land has increased the rate of crime, we do not excuse criminals but when someone is gainfully employed or has an enabling environment to run his or her legitimate business, such a fellow will hardly ever have time to think of criminal activities."
The movement is expected to tour round the entire city of Enugu before 6:00 PM today and many youths have abandoned all their engagements for the day to ensure its success.