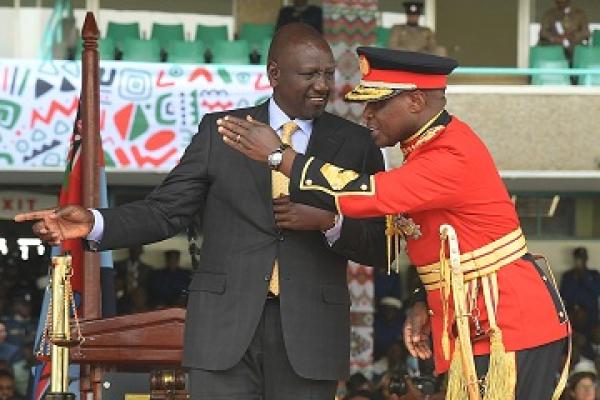 Osinbajo: Kenya Ruto's Inauguration, celebration of African Democracy
By: News Editor
Wed, 14 Sep 2022 || Kenya, Nairobi
William Ruto has been sworn in as Kenya's 5th President at a Ceremony held in Nairobi on Tuesday despite his rival Raila Oginga not accepting defeat.
Ruto in his statement while addressing Newsmen described the moment as "a moment like no other that a village boy has become President'' indicating that he grew up in rural Kenya.
"Standing here, today, is testimony that there is God in heaven. I want to thank God because a village boy has become the President of Kenya.''
William Ruto was given a copy of Kenya's Constitution and a Sword which represent the transfer of Power from Ex-President Uhuru Kenyatta. With his hand placed on a Bible, Ruto Swore to preserve and protect the Constitution.
He also said conciliatory words to Odinga and all his opponents; "Their supporters will be my cConstituents. I will work with all Kenyans, irrespective of who they voted for.''
Vice President Yemi Osinbajo, who was at the Inauguration described the event as a celebration of Democracy and Democratic Institution in Africa
Osinbajo while speaking with Newsmen at the the Swearing-In Ceremony held at Moi International Sports Stadium said;
"It is a celebration of Democracy and the reasons are obvious. The institutions held up – the Independent Electoral and Boundaries Commission, the equivalent of Nigeria's Independent National Electoral Commission, and the judiciary; they held up and ensured that not only were processes properly followed but also that justice was done."
"Whenever we talk about the celebration of Democracy, we are really talking about the celebration of our institutions, the institutions that undergird democracy and the rule of law.''
"I think what we have seen here in Kenya and the swearing-in of Dr. William Ruto is really evidence of robust institutions doing what they ought to do.''
"It is a great example and we are all extremely pleased. And I'm sure you have seen, from all of the African Heads of State and Governments and their representatives who are present here today, that there is an atmosphere of elation and joy because this worked."
Meanwhile, Raila Odinga did not attend the Ceremony, according to him ''he has serious concerns about his opponent's victory.''
Back to News