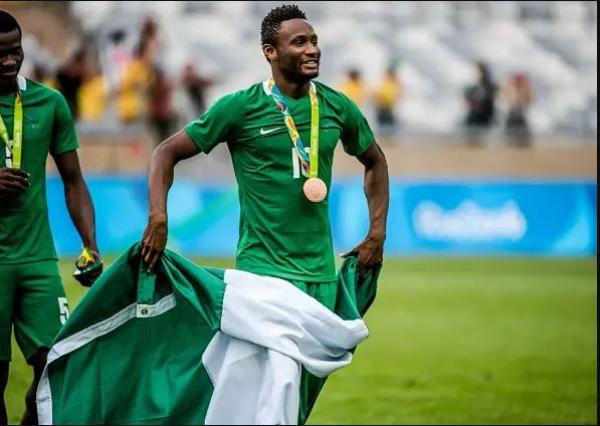 John Mikel's Retirement: Lessons for Nigerian footballers, others
By: Abara Blessing Oluchi
Wed, 28 Sep 2022 || Nigeria,
Yesterday, Tuesday, 27th September, 2022, Africa and the world were greeted with emotional news, following the announcement of retirement by one of Nigeria's most-decorated footballers of all time, John Obi Mikel.
The announcement brought to an end a 20-year illustrious and glamorous career of Nchekwube Obi to an end.
Born John Nchekwube Obinna Michael to Mr Michael and Mrs Irosu Obi of Anambra state, the former footballer started his football journey at the age of 12 before going professional at 15. He is the second most decorated player in Nigerian football history so far, after Kanu Nwankwo. He is a "Jos breed".
Mikel's career saw him play actively for 20 years, winning several elite trophies in Europe, including the Barclay's Premier League (twice), the English FA Cup (three times), the English Football League Cup, the FA Community Shield, the UEFA Champions League, the UEFA Europa League, Turkish Cup and the African Cup of Nations (with the Nigerian national team). He was also runner up and second runner up in some competitions too. Individually, he won some honours. His career was great.
However, the concern remains what future awaits Nigerian football. A quick look at the top 50 African footballers of all time, so far, shows that the present day "Eagles" have not really been making recognisable effort. "Eagles" or "Super Eagles" is a nickname for Nigerian footballers. Most Nigerian players in the list are those whose career ended over ten years ago. Mikel is arguably not included on the list. It is worrisome! Are the compilers of the lists being antagonistic to Nigerian players, or are Eagles of today not doing well enough?
Looking at those indices, the first thing that should come to mind is, "How many Nigerian footballers, of present day, have made it to the top three nominees for African Player of the Year Award in the last eight years, talk more of winning?" Does it mean that they are being unjustly deprived of their due?
A little probe again will be, "How many Nigerian players of present have prospects of winning the UEFA Champions League? In fact, how many Nigerian players play consistently for top clubs that have such prospect of winning the dignified trophy? Maybe it is too much to ask for such. Let us also consider this, "How many Nigerians play regularly for top elite clubs in the Europe top five leagues, clubs that have consistently won or challenged, as runners-up, in their domestic leagues for some years?
Bearing these in mind, the fear of what the future holds for the country's football is imminent. The most respected, at present, is Victor Osimhen, because he is force to reckon with at SSC Napoli. Many Europe elite clubs are after his signature too. Does he have the prospect of winning "Scudetti" for the "Serie A"? Can his club take him to the UEFA Champions League glory? Will he stay there and battle the likes of Salah, Mané, Haller and others for the African award?
Another thing to consider is the longevity of most Nigerian players. Many of them roughly have 15 years or less to be active, with less than eight years' consistent annual splendid performance. While Osimhen is still quite young, with bright future, it is also important to note that the likes of Ahmed Musa, Sani Emmanuel, Macauley Chrisantus among others gave impression of glorious future but before getting to 30, they waned, while the likes of Salah, Mané, Mahrez keep flourishing at such age. What could be the problem?
Although African players generally have challenge with longevity, that of Nigerian players seem to be more worrisome. How can the likes of Ahmed Musa, Ogenyi Onazi, Sani Emmanuel, Abduljaleel Ajagun, Olanrewaju Kayode and many more be unheard of, yet they are not yet 30? Does that speak well of the country's sports' development?
Most Nigerian players have been accused of losing focus, once they receive mouthwatering offer. This, probably, makes them think that there is nothing much to worry about. It is so pathetic to see someone like Iheanacho, being on the sidelines, at Leicester city. Many Nigerian players get easily enticed with money at their Under 17 and Under 20 levels, when they should be more keen on development. This makes them reject lower club, for higher ones that could afford them and end up not giving them the opportunity to grow.
Another problem is that age fraud is terrible plague that should be avoided. It gives a short-term benefit, with long-term repercussion. Look at Toni Kroos, a contemporary of Chrisantus, he is still at his peak at 32. This further fuels the suspicion of age fraud.
Having been one of the country's players with the longest career run, Mikel will never be easily forgotten in the history of the country's soccer. It is a call for more footballers to evaluate themselves, including future Eagles. Administrators should also be concerned about the development of the country's players and not just for lucrative agency deals when the players are being signed.

Back to News