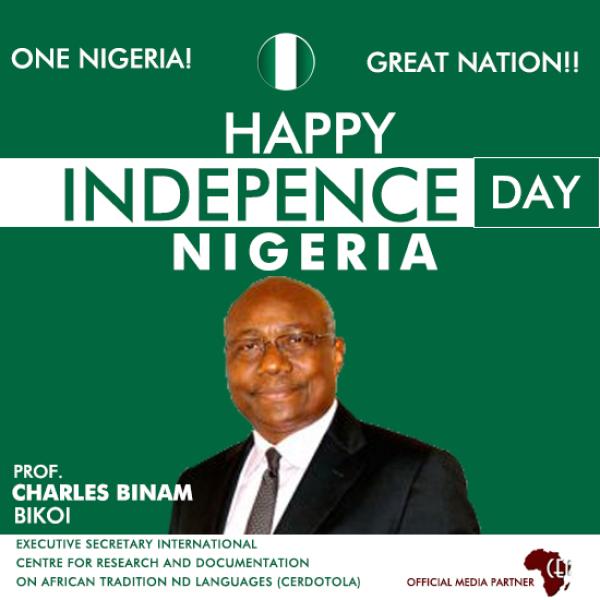 Nigeria, the pride of Africa—CERDOTOLA Executive Secretary, Prof. Binam Bikoi
By: Abara Blessing Oluchi
Sat, 1 Oct 2022 || Cameroon, Cameroon
The Executive Secretary, International Centre for Research and Documentation on African Traditions and Languages (CERDOTOLA), Prof. Charles Binam Bikoi, joined other world leaders to celebrate Nigeria at her 62nd Indepedence.
In his congratulatory message, made availabe to CEOAFRICA, Bikoi described Nigeria as the pride of Africa.
Prof. Bikoi, who congratulated the country on behalf of the centre on the occasion of the country's 62nd independence anniversary, recounted the contributions of Nigeria in making Africa's voice heard in all ramifications.
According to him, in 1996, when the likes of Brazil, a country well-known for football, had not had the prospect of winning the Olympic gold in the game, Nigeria won it for Africa.
Speaking further, he explained that Nigeria was a major front-liner in ensuring that South Africa regained her freedom from the Apartheid regime.
He added that the support given to some African countries by Nigeria, in their times of need, can never be measured, ranging from military support, cash donations, export of professionals, among others.
The Executive Secretary also used the medium to laud Nigeria's rich cultural heritage, usually displayed in festivals and carnivals, which he stated has attracted many tourists from all parts of the world.
He further called on Nigerians to use this day and reflect on the efforts of the country's nationalists in ensuring that the country gained independence and urged them all to ensure that the efforts do not become a laughingstock.
Back to News