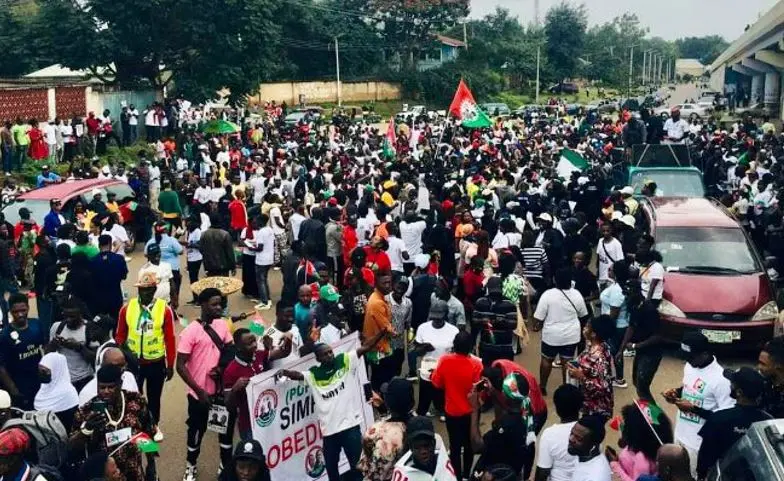 Nigeria @ 62: Obi-Datti grounds major parts of the Nation, Diaspora (Photos)
By: News Editor
Sat, 1 Oct 2022 || Nigeria,
As Nigeria celebrates her 62nd independence anniversary, the train of the ''Obidients' March'' in support of the Labour Party Presidential candidate, Mr Peter Obi has hit major parts of the nation and diaspora.
Nigerians, irrespective of age groups, ethnic divide, religious affiliations and occupation, trooped out and showed support for Peter Obi and Datti Baba-Ahmed, the Labour Party (LP) Presidential and Vice-Presidential candidates.
Lagos, Rivers, Delta, Edo, Bauchi, Akwa Ibom, Osun states among others were grounded. Nigerians in London, the United Kingdom were not left out as they marched in solidarity for Peter Obi.

In Lagos, supporters came out en masse in Lekki, Ajegunle, Festac, Mainland and Island, marching in support of Peter Obi with banners of the party and Obi. The supporters were chanting Obi-Datti. The supporters march to different parts of the State declaring support for their preferred Presidential candidate.
One of the leaders said; ''Obi-datti, Obi-datti, we have taken over Lagos, we have taken over Nigeria. My brothers in the North, my brothers in the South-South, my brothers in the South-East, please do not sell your vote. It is time to take over Nigeria, let the youth decide what happens in Nigeria. If any one messes up in 4 years, we will kick him out. We must take our Country by force, we are not here because of tribe or religion. they have divided us enough in terms of religion and tribe enough is enough.''

''This is a wake up call to all the youths, wake up enough is enough. We can do it. Why we are doing this is to put our own candidate and make them understand that if they don't do us well, we kick them out. Support Obi-Datti, for this movement it is a movement geared to the change of Nigeria, it is a movement channelled to one direction. Only the wise can understand this, you have to be among this movement.''

In Festac,one of the leaders said; ''This is a structure-less party, they say we don't have structure. What is this then? What are you seeing? It is either Obi or nothing, Festac shut down, Lagos State shut down, Peter Obi is coming, you have no choice but to be ''Obidient''. This is structure , woah woah.this is the structure we are talking about the real structure.
In Edo state, the Obidients converged at the famous Ring Road, Benin city, shutting down the State as they showed support for Peter Obi and the Labour Party.
They were waving the Nigerian flag, Labour party flag and Peter obi banners chanting 'Obi.'' Displaying placards with inscriptions; "With Obi/Datti, a new Nigeria is possible; if symptoms persist after 62 years, please seek the help of a saviour,'' among others. A newly married couple also joined the march and showed their support for the party.
One of the Obidients said;"They said we don't have structure, but you can see for yourself that we have what it takes to boost Obi's voting numbers. We are here for good governance to support the Obi movement and this is how we want to create awareness."
"What can we show as a country at 62? No electricity, unemployment is on the increase, there are bad health facilities, pensioners can't even enjoy their entitlements and benefits. What about the poor infrastructure? All I can say is Nigeria is in a mess."

Another Obidient said; "I am not hausa, I am not Igbo but I am a Nigerian. The rally is for my grandchildren and children. We want to get it right by force for our children. In 1984, we entered England with little cash but you cannot do that today. Presently, prices of food stuff are on the increase and the masses are suffering.
In London, United Kingdom, Nigerians, Europeans and Africans are seen in their numbers carrying the Nigerian flag, Labour party flag and Peter obi banners declaring support for the former Anambra State Governor.
One of the Leaders of the march said; ''Nigerians, Europeans, Americans are joining hands to support us and the message is very simple, by 2023 we are getting it right. We have started here in Europe and are appealing to Nigerians back home to come and join hands together and let us get it right in 2023. It is Peter Obi. We are shutting down London. Nigerians and Africans are united in this course to ensure that we get it right. We are getting it right in 2023.''
''We have just started the march, we have gone to the Nigerian house and we have returned. We are saying enough is enough. In 2023 Nigeria will begin to take shape. A lot of Nigerians who live abroad have seen what it means to live a good life and we want that to happen back home in Nigeria. We are not going to give shi shi shi and we are going to get it right. We are not going to give shi shi even for efo, ponmo we are ont going to give shi shi. We no go gree, we noooo gey take. Nigeria will begin to work.''
Back to News