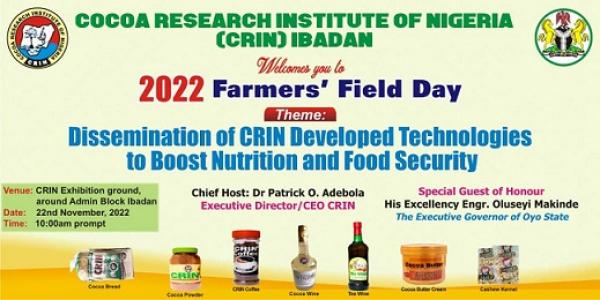 CRIN invites public to field day, relaunches nutritional innovation
By: News Editor
Fri, 18 Nov 2022 || Nigeria, Ibadan, Oyo State
The Cocoa Research Institute of Nigeria (CRIN), located here in Ibadan, has invited the general public to its Farmers' Field Day, holding on Tuesday, November 22, 2022, at the Exhibition Ground of the institute, located around the Administration Block, at exactly 10:00 in the morning.
The event, which is being hosted by the Executive Director, CRIN, Dr Patrick Olusanmi Adebola, will have in attendance the Executive Governor of Oyo State, His Excellency, Engr Oluseyi Makinde, along with numerous dignitaries across the state and beyond.
The theme is, "Dissemination of CRIN Developed Technologies to Boost Nutrition and Food Security", aimed at displaying some of the innovation in nutrition developed by the institute.
Recall that few years ago, Ibadan residents had been lamenting the extinct of the nourishing and refreshing cocoa bread developed by the institute, which they said had over a decade ago been one of the best things to happen to them in the Oyo state.
However, following Dr Adebola's appointment as the director of the institute two years ago, the cocoa bread has been made much richer and more nutritious; in addition, more innovative products have been added, while the previous products have been made more appealing, owing to the vision of Dr Adebola, to make the institute the best in Africa.
Some of the products to be on display include cocoa wine, tea wine, cocoa bread, cocoa butter cream, CRIN coffee, cocoa powder, cashew kernel and lots of other technologically improved farm products.
The plant scientist, who hinted the media crew of CEOAFRICA in an exclusive interview that his tenure as the director of the institute comes to an end in October 2025, has expressed optimism that the excellent works he has been doing in the institute shall never end when he vacates office, as he stated that his administration believes in success with a successful successor, which prompted him to ensure that younger ones are also mentored on how to achieve and sustain success in leadership.
Meanwhile, the institute has seen a tremendous turnaround within Dr Adebola's first two years in office ranging from land recovery, over 5KM perimeter fencing of the compound, refurbishing and rehabilitation of roads and blocks of offices and hall, to the development of a state-of-the-art research laboratory, that is first of its kind in the country, just to name a few.
The Farmers' Field Day will be another avenue to showcase some of the skill the institute has armed many smallholder farmers in the state with, in a bid to make them more successful in their agribusinesses, by ensuring that they get values for their produce rather than losing their raw materials; many farmers have been trained so far.
Back to News