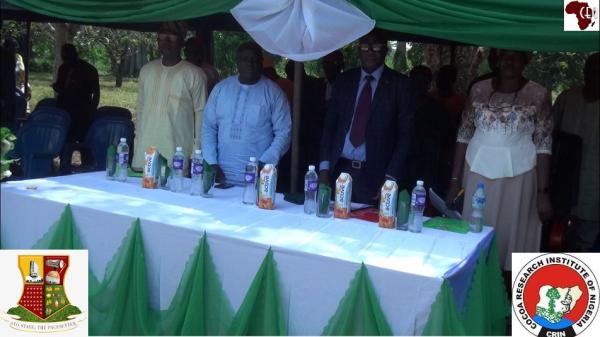 CRIN our only source of planting material—Oyo state gov't
By: Abara Blessing Oluchi
Thu, 24 Nov 2022 || Nigeria,
The Oyo state government has declared that the Cocoa Research Institute of Nigeria (CRIN), under the leadership of Dr Patrick Adebola, has been her only source of planting materials and transplanting development of cocoa used in the state.
This was made known by the Commissioner of Agriculture, Hon. Adeniyi Adebisi, during the celebration of Farmers' Field Day, held at the institute on Tuesday, November 22, 2022.
The event, which was attended by all and sundry, was an avenue to display some of the technological innovation made on several farm produce, through the research and guidance of the institute to enable farmers add value to their crops, thereby promoting food security.
Meanwhile, in his welcome remarks, the Executive Director of CRIN, Dr Patrick Olusanmi Adebola, explained that about 21 products have been developed from the institute's research, using its mandate crops of cocoa, cashew, kola, tea and coffee.
According to the commissioner, who spoke through Mr Babatunde Adewole, "CRIN has ever been the only source of planting material and transplanting development of cocoa used by the state to raise the seedlings distributed to farmers at highly subsidized rate".
The cabinet member of the state also identified other areas of partnership between the state and the institute, including giving out relief packages to the farmers across the state through the state government, during the pandemic, as well as collaboration on innovations involving the mandate crops of the institute, which has made the Federal Ministry of Agriculture and Rural Development express desire in adopting the state as one of its focal areas for tree crop.
Mrs Taiwo Oyetola, who is a project officer at the Bank of Industry, having seen different products made by the farmers, through the research of the institute, promised to ensure that loan facilities are made available for those who may need them for expansion of the agribusiness.
Some of the products displayed include cocoa bread, cocoa wine, cashew wine, Choco garri, cocoa butter cream, cocoa lotion, cocoa butter balm, cocoa soap, cocoa black soap, tomato wine, and many others; the Institute of Agricultural Research and Training (IAR&T) displayed her products too.
Back to News