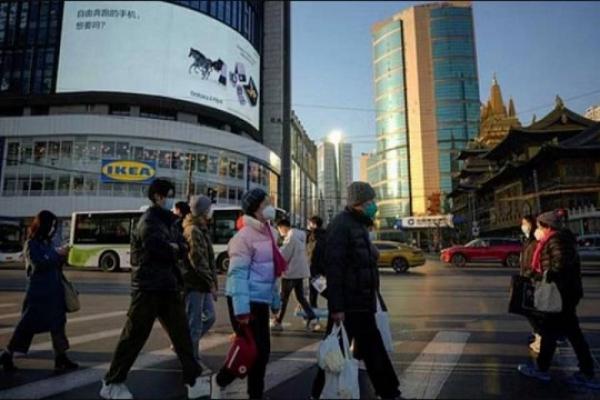 China Covid outbreak stokes global worries
From: Agency Report
Wed, 4 Jan 2023 || Nigeria,
China's state media rallied citizens on Wednesday for a "final victory" over Covid-19 as health officials abroad tried to work out the scale of its raging outbreak and how to stop it spreading.
Beijing's abrupt axing of "zero COVID" curbs last month has unleashed the virus on China's 1.4 billion people who have little immunity after being shielded since the virus emerged in the Chinese city of Wuhan three years ago.
The World Health Organisation holds a briefing in Geneva on Wednesday, a day after WHO officials met Chinese scientists amid concern about the accuracy of China's data about the outbreak. The UN agency has yet to release details about its talks.
European Union health officials also meet on Wednesday to discuss a coordinated response to the China outbreak, reports Reuters.
Many Chinese funeral homes and hospitals say they are overwhelmed, and international health experts predict at least 1 million deaths in China this year. China has reported five or fewer deaths a day since the policy U-turn.
"That is totally ridiculous," a 66-year-old Zhang, a Beijing resident who only gave his last name, said of the official toll.
"Four of my close relatives died. That's only from one family. I hope the government will be honest with the people and the rest of the world about what's really happened here."
China's cabinet said on Wednesday it would step up medicine distribution and meet demand from medical institutions, nursing homes and rural areas amid the outbreak, state media reported.
"China and the Chinese people will surely win the final victory against the epidemic," the People's Daily, the Communist Party's official newspaper, said in an editorial, rebutting criticism of China's three years of isolation, lockdowns and testing that triggered historic protests late last year.
Beijing has hit back against some countries demanding visitors from China show pre-departure COVID tests, saying the rules were unreasonable and lacked a scientific basis.
Japan, the United States, Australia and several European states are among countries requiring such tests.
SEEKING DATA
Willie Walsh, head of the world's biggest airline association IATA, criticised such "knee-jerk" measures that he said had not previously stopped the spread of virus that had hammered airlines which are recovering from the pandemic.
China will stop requiring inbound travellers to quarantine from Jan 8 but they must be tested before arrival.
WHO has asked Chinese scientists for data on viral sequencing, hospitalisations, deaths and vaccinations. Reuters reported last month the WHO had not received data on new hospitalisations since Beijing's policy U-turn.
China reported five new COVID deaths for Tuesday, bringing the official death toll to 5,258, very low by global standards.
British-based health data firm Airfinity has said about 9,000 people in China are probably dying each day from COVID.
Patients at Shanghai's Zhongshan hospital, many of them elderly, were crammed in halls on Tuesday between makeshift beds with people on oxygen ventilators and intravenous drips.
A Reuters witness counted seven hearses in the parking lot of Shanghai's Tongji hospital on Wednesday. Workers were seen carrying at least 18 yellow bags used to move bodies.
China's $17 trillion economy has grown at its slowest in nearly half a century amid the COVID disruptions.
But the yuan was at a four-month high against the dollar on Wednesday after Finance Minister Liu Kun promised to step up fiscal expansion. The central bank has also flagged support.
UBS analysts expect China's rapid reopening to cause "a deeper but shorter setback" to the economy but also predicted a recovery in activity from February.
Meanwhile, international flight bookings in China have risen 145 percent year on year in recent days, state-run China Daily reported, citing Trip.com data.
The number of flights to and from China are still a fraction of pre-COVID levels. But there are already signs that an increase in travel from China could pose problems abroad.
Back to News