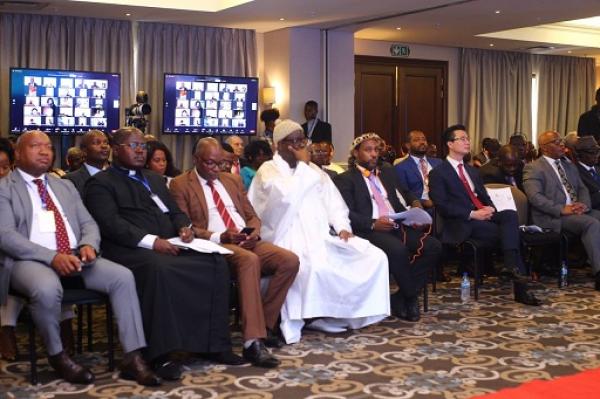 UPF Concludes Plan To Host 2023 African Summit In Abuja
From: Agency Report
Thu, 12 Jan 2023 || Nigeria,
The Universal Peace Federation (UPF) has concluded its plan to host the 2023 African Summit in Abuja, Nigeria.
The global body, with a network of individuals and organizations dedicated to building a world of peace in which everyone can live in freedom, harmony, cooperation, and prosperity, reached the agreement in Maputo, Mozambique, where a high-powered committee to oversee the success of the event later in the year, made up of some African heads of state, including Nigeria's Buhari as well as Senegalese's Sall, were to serve as co-chairmen, was made known.
Dr Yun Young Ho, the Director General of UPF and FFWPU, while acknowledging the importance of the Abuja Summit through a press statement to journalists, recalled similar summits around the continent of Africa with their attendant successes in building bridges of unity, oneness and peace.
"In Africa alone, several summits were held: The 2018 Africa Summit co-hosted by the chairman of the African Union, President Macky Sall, in Senegal.
"The 2nd Africa Summit was held in November 2018 in Cape Town. The 3rd Africa Summit and Blessing in Johannesburg in July 2019. The 2019 Africa Summits in Sao Tome in September and Niger in November as well as the Africa Continental Summit in December 2019 at FNB Stadium.
"I am sure you all remember the historic World Summit 2020 and the six Rallies of Hope that were broadcast by more than Ten thousand(10,000) broadcasters worldwide and touched more than three billion people."
Dr Ho said such conferences became imperative given the recurring global crisis like the COVID-19 pandemic, saying the world is currently suffering from the pandemic and that more than interdependence and mutual cooperation, there is a rise of national selfishness that exacerbates division and conflict.
He noted that Russia's invasion of Ukraine and the fight for the hegemony centred on values between the world's superpowers, especially the US and China continues, noting that in the midst of such global crises, Mother Moon, the co-founder of UPF, proposed a fundamental solution to realizing a world of lasting peace centred on interdependence, mutual prosperity, and universal values.
Back to News