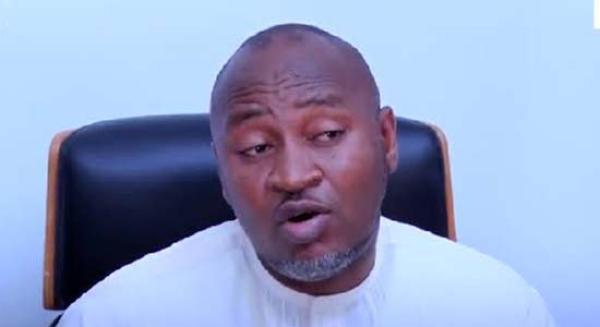 Obi's endorsement: ADC candidate kicks, says criminals sold party
From: Agency Report
Mon, 20 Feb 2023 || Nigeria,
The erstwhile presidential candidate of the African Democratic Congress, Dumebi Kachikwu, on Monday, lambasted some elements within the ADC, describing them as criminals.
Kachukwu was reacting to the ADC endorsement of the presidential candidate of the Labour Party, Peter Obi, and his running mate, Datti Baba-Ahmed, for the presidency.
He said, "I long warned about the criminals in ADC who sold the party to the bigger parties. They have divided themselves into three groups and collected money from APC, PDP and Labour. One party, three endorsements. Shameful."
The endorsement came on the heels of a grand coalition for the Obi/Datti Presidency
Among those who attended the event included ADC factional chairman, Chief Ralph Okey Nwosu; chairman of its Board of Trustees, Dr. Mani Ibrahim and chairman of The Big Tent in Labour Party chieftain, Prof. Pat Utomi.
The star alliance partners were Nigeria Mothers for Good Governance, Fulani United, Nigeria Artisans, League of Imams, Nigeria Traders, Yoruba United, Mega Political Coalition, Kanuris United, Amalgamated Coalitions, CEG Groups and Nigeria Legions United.
Ibrahim said the Obi-Datti Movement was a worthy cause and promised to ensure victory for the movement.
He said, "We founded this party over 16 years ago and we knew it was not going to be easy, but we committed to invest ourselves in the struggle. At the time, we were sure that the structures in place were so fluid, undisciplined, corrupted and frail to carry the country. Almost every Nigerian today shares that sentiment. Time has proved us so right.
"We told ourselves that we are going to be the grassroots political party with an inclusive culture and unique character that will champion the transformation of Nigeria and Africa: a party to birth a new Nigerian nation, where opportunities abound for all as a result of justice, rich diversity principles and values, and creative leadership with capacity to inspire the greatest innovative pursuit amongst our youths and entire people.
"A nation where every one of us and our future generations can dream big dreams and see their dreams come true. A nation where no one is oppressed. Are we succeeding? Sure yes. We never fooled ourselves that we were going to produce the president or governors in even ten years, we knew that nation-building in a highly corrupted space is a struggle.
"Things may be murky today, but the signs of the rainbow are beginning to be evident. To show that we have made good progress, in 2018, ADC emerged as a party of choice after due diligence scrutiny conducted by eminent persons and leaders of civil societies in the country. Despite the struggles we've faced in the last 6 months as a party, our determination has made us come out stronger.
"We presently have over 1,400 candidates running for several positions: governorship, senate, representative and state assembly. Within the last four months, different youth and women organisations have openly endorsed ADC and proposed to work with our candidates at the grassroots. Nigerians in the diaspora are solidly behind over 200 of our candidates that cut across all regions.
"Today, we come together as a family and as a formidable third force: our Grand Patrons and Board of Trustee members; our National Executive Council; our National Working Committee; our Diaspora Network and our National Youth Council to take stand in solidarity, moving forward for the viable presidential candidate the entire nation is clamouring for.
"After our due diligence and critical assessment of the 17 presidential candidates and what they have to offer Nigerians, and after consulting our Grand Patron and former President, General Olusegun Obasanjo, we decided as a party that the Obi-Datti Movement is a worthy cause to endorse. Today, we form this Star Alliance for one purpose only: to ensure a loud victory.
"Ladies and gentlemen of the media, it has been over 22 years since we embraced democracy as a nation. The first presidential election that heralded this republic was held on February 27, 1999, and in a week's time, we would be coincidentally marking the eve of that event in which General Olusegun Obasanjo, one of the highly respected military veterans, an Owu man from Ogun State, South West Nigeria, was elected president.
"This Star Alliance is significant because we must decide to shape the space mindfully going forward or believe me, this country is doomed. A whole generation of 20/30 years has passed since, after the annulled June 12 election of 1993. This democracy was as a result of the combined efforts and sacrifices of many: civil society leaders, concerned professionals, labour, PRONACO and NADECO, Nigeria's International friends, and many other individuals and patriots. We do not stand alone in this solidarity."
The event followed a signing of a Memorandum of Understanding between the LP and the ADC.
Speaking shortly after signing the MoU, Nwosu said the partnership was only a collaboration and not a merger with the Labour Party.
He also vowed to assist Peter Obi in having his numbers in the national assembly.
Back to News