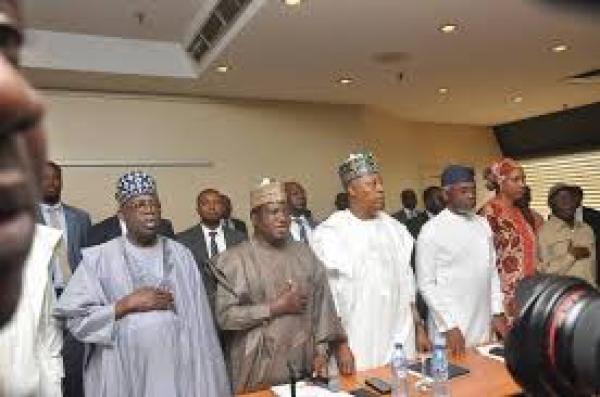 Alleged Electoral Fraud: Tinubu Campaign warns OBJ, CSOs against, mischief descending into arena
From: Agency Report
Tue, 28 Feb 2023 || Nigeria,
The Tinubu-Shettima Presidential Campaign Council PCC has accused former President Olusegun Obasanjo of mischief and hypocrisy following his calls for the cancellation of election results in some areas.
Special Adviser, Media, Communications and Public Affairs, at the PCC, Mr Dele Alake in a statement on Tuesday said Obasanjo was virtually calling for a truncation of the ongoing electoral process and a cancellation of already conducted elections on the basis of frivolous, unfounded and baseless allegations by politicians who are sore losers and have no respect for democratic values.
Part of the statement reads;
"Obasanjo repeated without the slightest iota of evidence rumours he had picked up that the Bimodal Voters Accreditation System had been compromised and that the results of elections being announced are fraudulent.
"It is tragic that a former President who ought to be a statesman in comportment and speech will recklessly seek to endanger and derail our democratic process for utterly selfish, egoistic and malicious reasons. He offers not a single credible piece of evidence to prove his laughable and ridiculous allegations against INEC and the credibility of the ongoing process.
"Of course, we are all aware that Obasanjo is not an impartial and disinterested party as far as this election is concerned. On January 1, 2023, he had issued a characteristically lengthy epistle to Nigerians endorsing the candidacy of Mr Peter Obi and asking Nigerian youths to vote en masse for him. Of course our reaction was that the former President was entitled to his view and that the outcome of the elections would demonstrate if he had any electoral value.
"As fate would have it, Peter Obi was defeated even in Obasanjo's own polling unit in Abeokuta in Ogun State. But it is now obvious that the only election Obasanjo will agree to being free, fair and credible is one that produces Obi as winner which is ridiculous.
"Is Obasanjo also querying the outcome of the presidential elections in Lagos or Delta where Obi won? If the outcome in Lagos won by Obi is free and credible, on what basis is he querying the outcome of the elections in other places? This is pure mischief and sheer hypocrisy. Obasanjo wants President Muhammadu Buhari to intervene in an undemocratic manner to truncate the ongoing political process just the way he did most shamelessly in the 2003 and 2007 elections widely described as the worst in our political history.
"Luckily, President Buhari is made of finer and more principled democratic stuff. He will not allow Obasanjo to lure him into tainting his democratic credentials in this regard. We recall that in his last trip to the United States, President Joe Biden praised Buhari 's commitment to democratic values and principles. Obasanjo has no such record to be applauded. The world has not forgotten his fraudulent and undemocratic attempt at a third term agenda in violation of the letter and spirit of the Nigerian constitution.
This is an election in which Asiwaju Tinubu, for instance, has lost in Lagos state in his South West region while Atiku and Obi have also won elections outside their own regional bases. No true democrat must seek an abortion of the process just because he believes the elections are not going his way. What Obasanjo is subtly calling for in his nefarious statement is a coup against democracy and the constitution. He should be roundly condemned and severely ignored.
"The constitution has stipulated processes for seeking redress against electoral malpractices in the past and these have been tested several times and used to redress electoral injustice where such has been proven. Nigerians must reject Obasanjo's dubious and hypocritical advice and stay strictly and firmly on the path of constitutionalism and democratic due process".
Meanwhile, the PCC said it has observed that many civil society observers who initially declared the process as credible, are now backtracking to raise questionable observations demeaning the electoral process, Nigeria and Nigerians.
O'Seun Odewale, Acting Director, Civil Society at the All Progressives Congress APC Presidential Campaign Council disclosed this in a statement on Tuesday.
"We note that these organizations have now taken a more than a passing stance against the continued smooth process especially as it affects the collation and announcement of election results.
"We also note that many of the observer institutions are taking turns on national Radio and TV stations to pass uncomplimentary remarks against the elections and the main elections management body, The Independent National Electoral Commission INEC.
"It is curious that civil society institutions that are otherwise approved to 'observe' the electoral process and bring up recommendations on how to improve the election systems have chosen to becloud the elections with their partisan alignments.
"It is curious that institutions that had gleefully declared victory after the exit polls have suddenly found fault in the results collation exercise and are all out to unjustly discredit the process. It leaves much to be desired when civil society institutions take unwholesome advantage of their access to polling and collation centers to side with the objections put forward by a section of opposition party agents during the collation exercises. We wonder how results that have been declared and pasted and distributed to all agents at all polling centers nationwide are being queried after moving through four multilayer stages to the national collation center in Abuja.
"It is evident that some civil society actors are determined to use their privileged platforms to further their partisan political ends. Otherwise, how does one explain an accredited 'observer' mission's transmutation into an election 'monitoring' body demanding not just the stoppage but a total reversal of votes already counted and declared? We further note that these bodies have now recruited the support of the otherwise respected partisan-tainted statesmen to further their agenda to delegitimise our electoral process. These rather uncanny attempts at collaborating with opposition political parties at blackmailing everyone into a pre-determined electoral outcome do not only not augur well for our country, but it will further undermine the progress made so far in the course of our democratic project.
"We hold it that these so-called civil society bodies have a premeditated outcome of these elections which can only be accepted by them. Otherwise, their online and offline theatrics which is a follow-up of the disruptions of the collation process of the joint efforts of the PDP and LP collation agents is rather unfortunate", the PCC stated.
Back to News