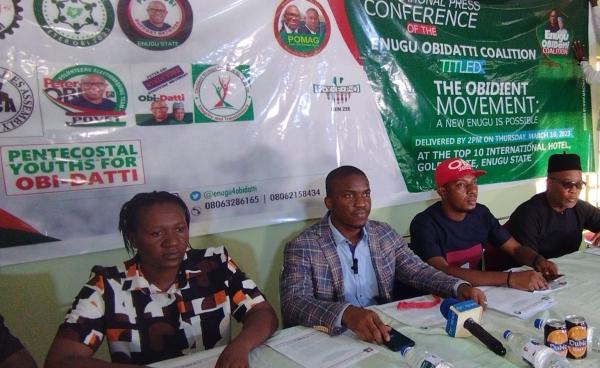 New Enugu: Edeoga, LP best option – Obi-Datti coalition vows
By: Cletus Sunday Ilobanafor
Thu, 16 Mar 2023 || Nigeria,
Members of the Enugu Obidatti Coalition, on Thursday, restated their support for the Labour Party governorship candidate in Enugu State, Hon. Chijioke Edeoga.
The coalition, made up of different Obidient Movement groups in Enugu State, said the decision was taken after a careful study of Edeoga's plan for the people of Enugu State.
At a press conference addressed by the leaders of the various groups, they noted that a New Enugu was possible with Edeoga as Governor.
Those at the media briefing inclued Dr. Chima Emmanuel Edoga, Lead Convener and Comrade Wilfred Okeke, Secretary, Arc. Eric Eyutchae, and Hon. John Chidi Uzoigwe, co-conveners.
They knocked some groups for attempting to impersonate the Obidient Movement in Enugu State, noting that "we have no faction whatsoever; we were the people that pioneered the one million-man march for Peter Obi, the PVC sensitization, among other movements for Obi-Datti in Enugu state.
"So, any person coming to lay claim to Obidient Movement in Enugu is an impostor. In any case, they said they are Obedients, which is a corruption of our right name: 'Obidients.'
They observed that Enugu had in recent times yearned for a rebirth.
"The years of governance of the state by the People's Democratic Party, PDP, has left bitter tastes in the mouths of many state residents/dwellers.
"The ruling party conducted Gubernatorial primaries which were described by many, as transactional, offered to the highest bidder, or to those who the establishment supported.
"Hon. Barr. Chijioke Edeoga was part of that infamous PDP gubernatorial primaries, but apparently could not withstand the power and money play.
"While still recovering from PDP primaries saga, Barr. Chijioke Edeoga put it on record that he received a call, from Mr. Peter Obi, to consider running for Governorship position under the Labour Party.
"After some weeks of reluctance, he accepted and emerged as the gubernatorial candidate of the Labour Party. His emergence was not without legal tussles that reached the Supreme Court."
They further described Edeoga as the most grassroots-oriented gubernatorial candidate, going through gruelling tours of more than 240 wards out of 260 wards in Enugu State.
"In each of the tours, he requested documented needs of the people, such that the manifesto will be a mixture of bottom-to-top and top-to-bottom approach. He has details of the needs of Ndi Enugu in writing and has promised to meet them when elected.
"Enugu ObiDatti Coalition has confirmed that Hon. Barr. Chijioke Edeoga has studied the Presidential Manifesto of Peter Obi and Yusuf Baba-Ahmed Datti, and is committed to adopting the key concepts applicable at a state level," it stated.
The Coalition decried what it called malicious attacks on the person and image of Hon. Barr. Chijioke Edeoga, describing it as vicious and unprecedented.
"Enugu ObiDatti Coalition is aware of the numerous sacrifices Hon. Barr. Chijioke Edeoga has made, to ensure that a new Enugu is birthed. He has told of how he risked losing his life, while aspiring for public office.
"Despite not having a war chest, he has painstakingly built the structure of the Labour Party in Enugu State, with Obidients and for 'Ndi Enugu', home and abroad.
"How then shall we turn our backs on a man who has done so much for this onerous task of taking back our country/state based on false allegations from those who have seen the handwriting on the wall and have decided to sow seeds of discord among Ndi Enugu?
"The Enugu Obidatti Coalition, having given our all to the birthing of a New Nigeria through Mr. Peter Obi during these past months, and having found Hon. Barr. Chijioke Edeoga as credible, compassionate, competent and prepared to work with Mr. Peter Obi, Obidients, the Labour Party and all lovers of Enugu State to birth a New Enugu, hereby, fully endorse his candidature, will work for his victory and will hold him accountable while in office.
"We, therefore, call on all Obidients and the good people of Enugu State, to stand with Mr. Peter Obi, by standing with the Labour Party Gubernatorial Candidate, Hon. Barr. Chijioke Edeoga and holding him accountable while in office," they declared.
Back to News