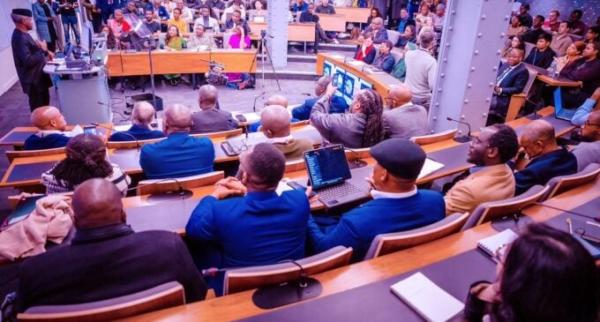 Osinbajo to African countries: Stop lamenting brain drain and take advantage of your diaspora
By: Cletus Sunday Ilobanafor
Wed, 29 Mar 2023 || Nigeria,
Vice-President Yemi Osinbajo has advised African countries to quit lamenting the brain drain in the continent and take advantage of their citizens in the diaspora.
Osinbajo spoke on Monday while delivering a public lecture on 'How Africa Can Prosper in an Increasingly Complex World' at King's College, London.
The vice-president noted that while brain drain "is costly", the African diaspora can serve as a great resource that will help the continent cope with a rapidly changing world.
He described diasporan Africans as "our vanguard for keeping up with the rest of the world".
Concerns have been raised in recent times over the relocation of many healthcare workers in Nigeria to the diaspora — a development that has worsened the state of the country's health sector.
In August 2022, the Nigerian Medical Association (NMA) said a total collapse of the health sector is imminent if urgent steps are not taken to address the situation.
The association added that with the trend of medical doctors leaving the country, there may be a need to hire doctors from foreign countries in the future.
Commenting on the situation, Osinbajo said: "Instead of lamenting the brain drain (which is costly) Africa should organize itself to take advantage of its diaspora some of whom are in this very audience.
"Aside from remittances from the African diaspora, which is substantial, rising from $37bn in 2010 to $96bn by 2021, the African diaspora is a source of strength. They have also in several instances offered themselves for public service. However, I see the diaspora as our vanguard for keeping up with the rest of the world (a secret weapon as it were).
"As we have seen time and time again, members of the African diaspora keep a close tab on developments at home often investing their resources in businesses or setting up facilities with cutting-edge services in medicine, education, and finance.
"We saw for instance the contributions from the Ethiopian diaspora that helped to fund the building of the Great Ethiopian Renaissance Dam (GERD)."
The vice-president said "Africa has been and remains a force for global good", adding that the continent can take full advantage of the global complexities and thrive through knowledgeable leadership committed to good governance.
Back to News