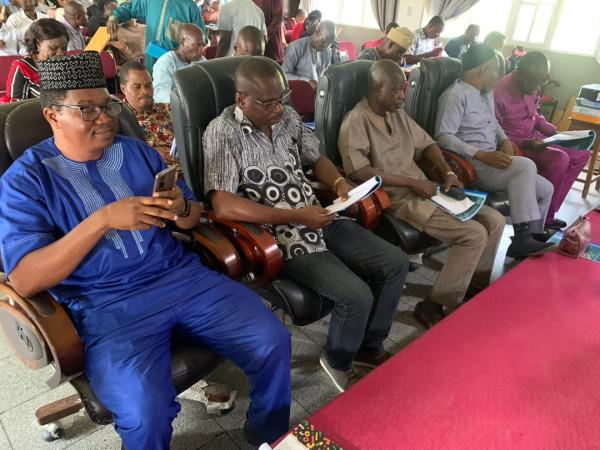 Cross Section of participants at CRIN in-house Research Review for National Development
CRIN Organizes 2 Day in-house Research Review for National Development
By: Cletus Sunday Ilobanafor
Tue, 23 May 2023 || Nigeria,
The two day in-house programme (23rd - 24th, May, 2023), organized by Cocoa Research Institute of Nigeria (CRIN) took off on a good note as research participants from different departments of the institutes turned up to share and add to the body of knowledge and experience.
The in-house research review programme which is taking place at the institute tagged: Varietal Development of Cocoa, Cashew, Coffee, Kola, and Tea for Sustainable Circular Economy Growth in Nigeria: addresses fundamental issues affecting cash crops - climate change; crop improvement; cultivation practices and diseases with a global perspective.
Welcoming the participants into the programme, the Executive Director of the institute, Dr Patrick Adebola, ably represented by the Director of Budget, monitoring and Evaluation, Dr A, O Famaye promised participants of stimulating session. He described the in-house programme as one packaged with invaluable knowledge of holistic research for all participants to guide the scientists and researchers in the institute.
In his remark, the Director -Research Operation, Dr. S. O Abeniyi expressed his delight to see members promptly seated, ready for the event of the day. He assured that the in-house review programme is in line with the mission and vision of the institute which is to apply science and technology with the view of increasing productivity, improving quality and value addition of Cashew, Cocoa, Coffee, Kola and Tea. He intimated that the outcome and findings of the programme will be desseminated through extension services and capacity building of stakeholders towards enhancing national development.
With a cross-section of influential agricultural researchers, the panellists premised the technical session on imperative issues and proffer solutions for the cash crops, emerging trends, and contributions to cash crop growth. The in-house programme which boarder on innovations and development of eco-friendly and safe approach for crops management, emphasized on the safe use of bio-fungicides for control of diseases; resuscitation of hybrid trial materials; development of new variety to enhance productivity; etc.
While commending the organizers of the programme for a job well done, Dr Agbeniyi lamented scarcity of funds as the major obstacle hamstringing the development of many research projects.
Day 1 of the programme closed on a robust intellectual debate on the subject matter as it affects cocoa, cashew, Kola and tea production; before the programme closed for the day.
Day 2 (24th May, 2023) is promising to come with more fireworks as seasoned panelists are on the waiting list to brainstorm further..
Back to News