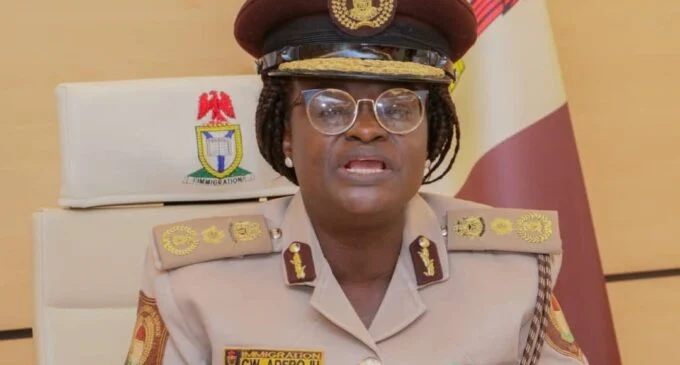 Immigration to Nigerians: We'll take decisive steps to curb passport booklets scarcity
By: Cletus Sunday Ilobanafor
Sat, 17 Jun 2023 || Nigeria,
The Nigerian Immigration Service (NIS) has assured Nigerians that "decisive steps" will be taken to fix the scarcity of passport booklets in the country.
According to a statement on Friday by Tony Akuneme, NIS spokesperson, Caroline Adepoju, the agency's acting comptroller general, said Nigerians would soon be able to obtain passports in "a timely manner".
Last month, the senate directed its committee on interior to investigate the complaints of delay in the renewal and issuance of international passports across the country.
This followed complaints by Nigerians that they could not renew or get fresh passports from the NIS.
Rauf Aregbesola, former minister of interior, had blamed the shortage on corrupt officials undermining the agency's efforts in sanitising the passport application process.
Consequently, NIS announced that 80 officials have gone on trial for trying to frustrate the passport issuance process.
In the latest statement, Adepoju promised to dismantle further, "all man-made bottlenecks" causing the passport shortage.
She tasked all agency units to work "tirelessly" to bridge the gap and ease the worries of Nigerians.
"The Ag. CGI's visit to Lagos encompassed significant events that underscored the gravity of the Passport crisis," the statement reads.
"She inaugurated a state-of-the-art visa-on-arrival lounge at the Murtala Mohammed International Airport, demonstrating her commitment to improving the overall travel experience for visitors entering Nigeria.
" Following this, she paid an unscheduled visit to the Alausa passport office to assess the situation firsthand.
"In her address, Ag. CGI Adepoju emphasised the necessity to dismantle all man-made bottlenecks that impede the passport application process.
"She further stressed that the NIS top management is fully committed to addressing institutional and technology-based drawbacks to ensure more efficient and streamlined service delivery.
"The state of emergency declaration on passport issues signifies the renewed commitment of NIS to resolving the challenges faced by Nigerians seeking to obtain passports.
"It represents a call to action for all stakeholders to prioritise efficiency, transparency, and excellence in service delivery.
"Ag. CGI Adepoju had earlier directed all passport control officers, relevant units and personnel within the NIS, including our missions abroad, to work tirelessly towards eliminating all hindrances preventing Nigerians from accessing passports promptly.
" The NIS is leveraging technology and instituting robust administrative measures to enhance the passport application and issuance process.
"The Ag. CGI urges all Nigerians to remain patient and cooperate with the NIS as it takes decisive steps to address the passport crisis. She assures the public that efforts are being made to ensure that every eligible Nigerian who requires a passport can obtain one in a timely manner."
Back to News