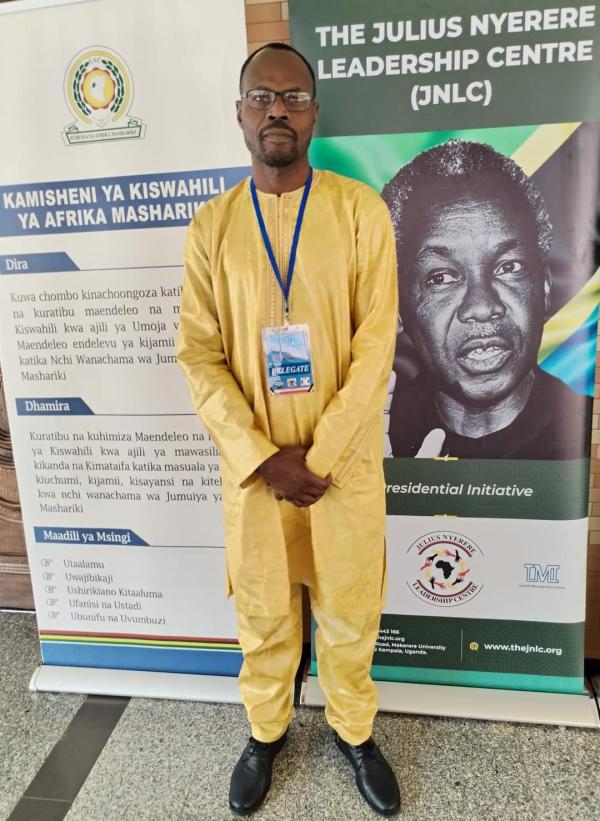 Executive Secretary of the African Academy of Languages (ACALAN), Dr Lang Fafa Dampha
Dr Lang Fafa Dampha makes case for the development and promotion of African languages
By: Cletus Sunday Ilobanafor
Fri, 14 Jul 2023 || Nigeria,
The Executive Secretary of the African Academy of Languages (ACALAN), Dr Lang Fafa Dampha has again called for concerted efforts from all stakeholders to develop and promote the use of Kiswahili and other African languages to enhance integration, peace and stability as well as economic prosperity of the African continent.
Dr Dampha made this call recently during the commemoration of World Kiswahili Day organised by the East Africa Kiswahili Commission - Kamisheni ya Kiswahili ya Afrika Mashariki (KAKAMA), in Kampala, Uganda from 5 to 7 July 2023.
Dr Dampha expressed his excitement as the Executive Secretary of (ACALAN) which is a specialised institution of the African Union entrusted with the task to develop and promote African languages as a factor of African integration and development, to take part in the second edition of World Kiswahili Day celebration which holds on July 7 of every year.
While congratulating the East African Community for establishing KAKAMA, as a strategic and relevant institution for the promotion of Kiswahili, Dr Dampha recalled that the United Nations General Assembly, through its resolution 71/328 of September 11, 2017 on multilingualism had welcomed the implementation of a day dedicated to each of its official languages in order to inform and raise awareness of their history, culture and use while also encouraging institutions such as UNESCO to consider extending this important initiative to other non-official languages spoken throughout the world.
He said that the 41st session of the General Conference of UNESCO in 2021 had proclaimed July 7 as World Kiswahili Day with the maiden edition held in 2022 at UNESCO headquarters and worldwide under the theme: "Kiswahili for peace and prosperity" and that the theme for that of this year as celebrated at UNESCO was "Unleashing Kiswahili's Potential in the Digital Era" while the theme adopted by the East Africa Kiswahili Commission is 'Kiswahili and Multilingualism: Achieving More Together,'".
He informed the participants that well before the United Nations Declaration of the World Kiswahili Day (ACALAN) had organised a consultative meeting in July 2019 to identify ways and means of efficiently promoting Kiswahili as a language of wider communication in Africa within the context of the multilingual reality of the African continent.
Dr Dampha explained further that the consultative meeting developed the "Dar es Salam Framework for Action," as a call on the Heads of State and Government of the Member States of the African Union to implement Article 29 of the Constitutive Act of the African Union (previously article 25 of the Charter of the Organisation of African Unity) to adopt African languages as a working language of the African Union and languages of wider communication in Africa.
He said that the framework is a desire that can be realised through collaborations and partnerships with member states of the African Union, regional and international organisations, agencies, individuals and language interest groups.
Back to News