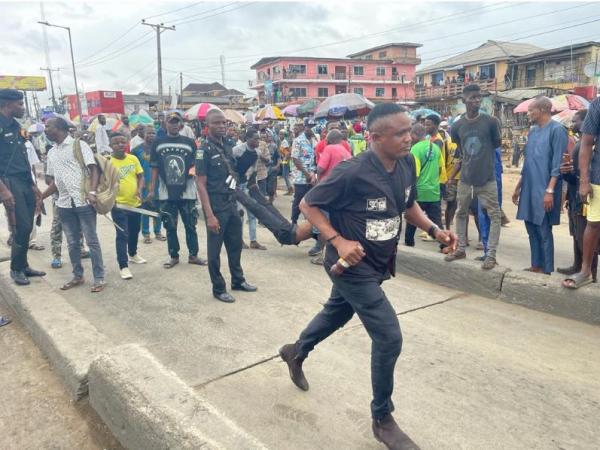 BREAKING: Mob beats Lagos policeman to stupor for pushing man crushed by BRT
By: Abara Blessing Oluchi
Mon, 7 Aug 2023 || Nigeria,
An angry mob have beaten a yet-to-be-identified policeman to a stupor after a man identified simply as Yusuf got rammed by a BRT bus from the impact of being allegedly pushed by policemen in the Ketu area of Lagos State.
It was gathered from eyewitnesses at the scene that the policeman and his colleagues were attempting to dispossess Yusuf of his vehicle when he got pushed into the BRT lane.
In the process, one of the BRT buses plying the lane inward Lagos rammed into Yusuf who collapsed due to the impact of the crash.
Speaking with our correspondent, an eyewitness, who does not want her name mentioned, said the policemen were responsible for Yusuf's ordeal, adding that he sustained varying degrees of injury as a result of the incident.
"The policemen caused this; they were the ones that were trying to dispossess the man of his vehicle and while trying to push the man out of the vehicle, they pushed him on the BRT lane and an incoming bus ran into the man," the eyewitness said.
Another eyewitness, whose name could not be ascertained as he hastily spoke with our correspondent when the scene got rowdy, said the policemen, after realising that Yusuf had been crushed by the BRT, attempted to flee the scene but an angry mob apprehended one of them.
He said, "It was people that beat the policeman till he fainted. He has not died because I still observed that he was breathing. People were annoyed about what they did to that man.
"The man sustained serious injuries, look at him lying unconscious on the floor and his blood on the road."
Our correspondent observed as people rushed to the rescue of Yusuf who was seen lying motionless on the BRT lane.
While some people were seen pouring water on him to make him regain consciousness, our correspondent observed as policemen attached to the Ketu Divisional Police Station attempted to rescue their colleague who also lay motionless on the ground.
The uniform of the brutalised policeman had been torn due to the impact of the attack on him by the angry mob.
People were also seen lamenting over the incident and blaming the policeman and his colleagues for causing the accident.
However, while assessing the injuries Yusuf sustained from the impact of the accident, our correspondent saw a deep cut on his right arm as people rushed him into a vehicle for onward treatment in a hospital.
Policemen attached to the Ketu Division were seen storming the scene to restore normalcy. The yet-to-be-identified policeman was also rushed to the hospital for treatment.
Contacted, the state Police Public Relations Officer, SP Benjamin Hundeyin, said he would get back to our correspondent but had yet to do so as of the time this report was filed.
Back to News