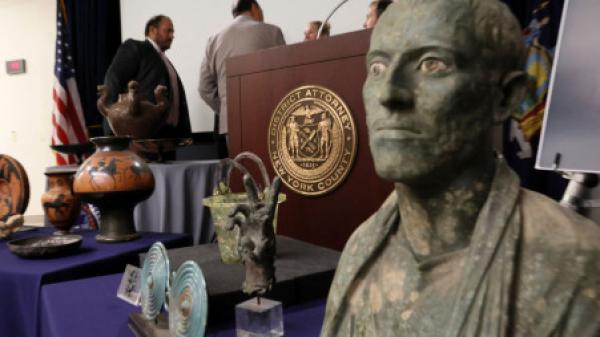 US returns over 40 'stolen' antiquities to Italy
From: Agency Report
Wed, 9 Aug 2023 || Nigeria,
New York authorities on Tuesday returned to Italy several dozen stolen antiquities worth nearly $3.5 million, as the American megapolis strives to shake off the reputation as a key global hub for illicit art trade.
Investigators handed back 42 exceptional pieces – some 2,500 years old – to Italian officials during a ceremony in New York, according to a statement from Manhattan District Attorney Alvin Bragg
"We continue to undo the damage wrought by decades of well-organised antiquities smuggling networks throughout Italy," Bragg said, adding that more than 200 antiquities have been repatriated to Italy since he took office in 2022.
Vincenzo Molinese, commander of the Italian government's so-called Carabinieri Art Squad, hailed "the great success of the investigation" thanks to a collaboration between the United States and Italy.
Among the works found and returned was a vase from the region of Apulia in southern Italy that dates back to 335 BC. It was stolen from a burial site before being smuggled abroad by Giacomo Medici, a notorious trafficker of Italian antiquities, according to prosecutors.
After passing through London, the bowl, which was used to mix water and wine, was seized in July from a private collection in New York last month.
Since 2017, New York prosecutors have repatriated pieces that were looted from around 20 countries between the 1970s and 1990s.
They have included works from ancient Greece, the Roman and Byzantine empires, Iraq, China, India and Southeast Asia.
Back to News