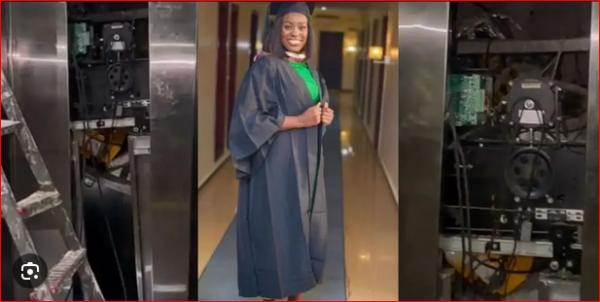 Vwaere Diaso: NMA panel submits its findings, says elevator that killed Lagos doctor is unfit for use
By: Abara Blessing Oluchi
Thu, 24 Aug 2023 || Nigeria,
An 11-member panel constituted by the Lagos state chapter of the Nigerian Medical Association (NMA) to investigate the death of medical doctor, Vwaere Diaso, in an elevator at the General Hospital, Lagos Island, has submitted its findings.
Recall that Diaso died from injuries she sustained after the elevator she was in, fell from the 10th floor of the building.
The panel comprising of independent committee of doctors, lawyers and engineers, chaired by Saheed Babajide, said in its report published on Wednesday, August 23, that the elevator was unfit for use and "ought not to have been put to use to avoid endangering lives".
The panel which noted that staff of the hospital they interviewed revealed that the two lift systems in the building were not operating satisfactorily for a long time, also pointed out that there's no verifiable maintenance structure or apparatus for the use of the lift installed at the facility.
The panel which also disclosed that professional excellence was not applied in the provision of the lift system in the building, further affirmed that there was a delay in rescuing the injured late doctor while the estimated time spent in the car after the accident was about an hour.
The report read; "Following the standards of Lagos State Safety Commission, we recommend that hospital assets be maintained and serviced by the hospital management to avoid needless bureaucracy and such assets should be certified annually by competent professionals.
"Upon commissioning of assets or technical equipment, the operators of the equipment must be adequately trained and retrained on safety and proper operation and handling of emergencies.
"Routine safety drills should be conducted by safety officers for all staff."
The panel recommended the investigation of all stakeholders and contractors involved and the prosecution of anyone found culpable. It also recommended that the house officers' quarters at General Hospital Odan, Lagos Island be named after the deceased to immortalise her.
Back to News