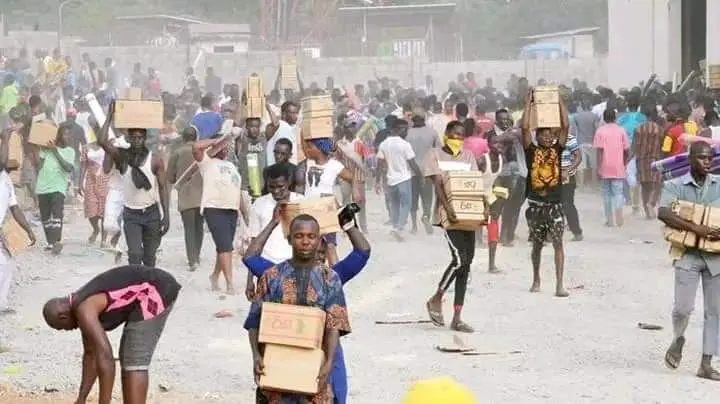 Residents invade, loot palliatives warehouse in Bayelsa
By: News Editor
Tue, 29 Aug 2023 || Nigeria,
Bayelsa State Emergency Management Agency, BYSEMA, yesterday, warned the public that the food items looted from a warehouse in Yenagoa, the state capital by some residents were unfit for human consumption.
The warehouse located in the Kpansia suburb of Yenagoa, used to house relief materials for 2022 flood victims was invaded and looted by residents on Sunday night.
BYSEMA's Director General, Walamam Igrubia, advised those who pillaged the facility not to consume the items for safety reason.
He said: "These items are unfit for human consumption and a responsible, caring government like ours will not give Bayelsans such items as palliatives."
Igrubia added that as part of preparations for an impending flood this year, he visited the premises and in his presence, remnants of food items, notably rice and garri that were no longer fit for consumption, were cleared from the warehouse and placed outside for disposal the next day.
He said: "The remnants, which were swept from the floor and packed in disused bags, were less than 10 bags of rice and garri and with some broken cans of oil.
"For emphasis, BYSEMA states that these items were not fresh food palliatives and were not hoarded by the agency or the state government.
"In essence, there were really no food items to loot. So, those who carted away the unfit items are please advised in their own interest not to consume them."
Igrubia assured Bayelsans of the agency's preparedness to handle the distribution of palliatives provided by the Federal Government as part of cushioning the effects of its fuel subsidy removal policy as well as the fallout of impending flooding this year.
But a concerned resident, Alagoa Morris, slammed BYSEMA for allowing the items in the warehouse to go bad without distributing them to victims of the 2022 flood that ravaged the state.
It said: "If truly 2022 monster flood-related items were so stocked and denied victims, it is unfortunate and leaves much to be desired.
"Yes, that there is hunger in Nigeria is not in doubt, but no matter what, not everyone would take actions not supported by law. Let this be a lesson to all stakeholders."
Back to News