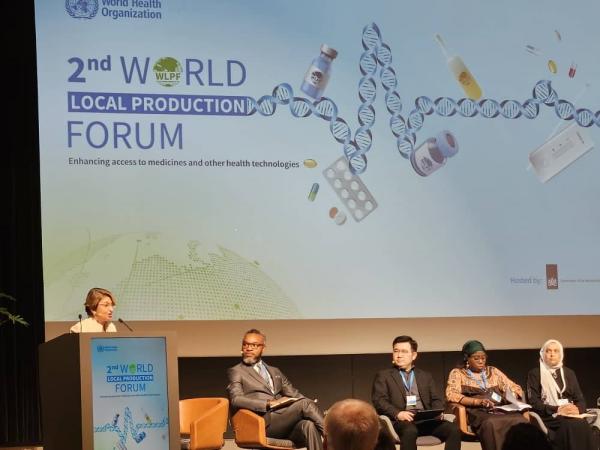 2nd World Local Production Forum launches H-TAP new collaborations as Frank Muonemeh advocate for Medicine Security
By: News Editor
Sun, 19 Nov 2023 || Nigeria,
A new Health Technology Access Pool (H-TAP), which aims to broaden the scope of IP and patent-sharing with low- and middle-income countries and a new African Union co-sponsored 'manufacturing support platform' were among the initiatives launched at the Second World Local Production forum held in The Hague, The Kingdom of Netherlands, from 6th to 8th November, 2023 was a momentous occasion that brought together key stakeholders in the pharmaceutical, vaccines, and life science sectors. Themed "Galvanizing Regional Partnerships for Sustainable Local Production and Equitable Access," the forum aimed to foster collaborative discussions on strategies and actions to enhance access, and global health security, and promote international solidarity.
The platform will provide technical assitance to African manufacturers along the entire "health products manufacturing value chain," its promoters said.
The support could range from technical assistance in "business management, sales and operations", to support for the acquisition and development of active pharmaceutical products, and preparation of drug dossiers to ensure compliance with regulatory standards, the project initiators said.
The initiative calls upon African manufacturers, R&D centers and centers of excellence, as well as "market actors" including industry associations to collaborate in the initiative.
Over 79% of African pharma products are imported, while Africa supplies only 3% of global production of medicines and vaccines, it's developers note.
The forum gathered an impressive array of speakers, including global, regional, and national leaders. Distinguished personalities from organizations such as the World Health Organization (WHO), International Finance Corporation (IFC), World Bank, UNIDO, UNICEF, UNITAID, UNCTAD, WIPO, GAVI, CHAI, UNECA, Africa-CDC, UN, AfCFTA, GAVI, BMGF, USAID, WEF, EU, AMA, USP International, non-profit organizations etc, health ministers, and heads of National Regulatory Authorities from Low- and Middle-Income Countries (LMICs) shared insights and engaged in discussions.
Notably, Nigeria was well-represented at the forum, with influential speakers contributing to the dialogue. Prof. Mojisola Adeyeye, DG NAFDAC; Dr. Abdu Mukhtar, the National Coordinator of the presidential Unlocking Healthcare Value-Chain Initiative; Pharm Frank Muonemeh, Executive Secretary and CEO of the Pharmaceutical Manufacturers Group of the Manufacturers Association of Nigeria; Prof Ngozi Okonjo-Iweala, Director-General of the World Trade Organization; and Dr. Ayoade Alakija, Chair of the Board of the Foundation for Innovative New Diagnostics, along with Emeka Okoli, Chairman of Emzor Pharma Industries Ltd, played pivotal roles in the discussions.
Mr. Frank Muonemeh, one of the speakers, provided valuable insights into the forum through his (X)verified former Twitter handle @FrankMuonemeh, enriching the global discourse on sustainable local production and equitable access in the pharmaceutical and life sciences sector. The event served as a platform for collaboration, knowledge exchange, and the development of impactful strategies to address challenges and seize opportunities in the industry to achieve #MedicineSecurity.
Back to News