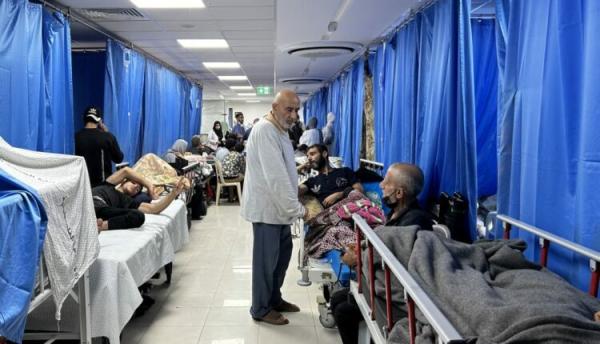 Israel Ssys 55-metre Fortified Tunnel Found Under Gaza's Shifa Hospital
By: News Editor
Mon, 20 Nov 2023 || Nigeria,
Military spokesman Daniel Hagari told reporters the en­trance was uncovered when a military bulldozer knocked down the outside wall of the hospital complex and found a fortified shaft with a spiral staircase descending 10 metres (yards).
"It's a huge one which has metal (spiral) stairs, then it goes along for 55 metres and reach­es a blast door," said Hagari, indicating troops had not yet tried to open the door for fear it would be booby trapped.
Beyond the door, intelli­gence suggested either the tunnel would either split or there would be "a big room for command and control", he added, saying troops would continue searching the area as there could be access shafts from nearby houses.
Troops also discovered a white Toyota pickup truck containing "RPGs, explosives, grenades, AK47s," inside the hospital compound which Hagari said was "identical" to those used by Hamas militants when they attacked Israel on October 7.
When the army first entered Al-Shifa on Wednesday, there were "around 2,000 people in­side", Hagari said, describing the huge hospital complex as covering an area of "more than 20 acres", or eight hectares.
Israel has pounded Gaza relentlessly from the air, land and sea since October 7 when Hamas militants stormed into southern Israel killing around 1,200 people, mostly civilians, and kidnapping some 240 oth­ers, according to Israeli author­ities.
Since then, health officials in Hamas-run Gaza say Israel's relentless campaign has killed at least 13,000 people, also most­ly civilians.
The operation in Al-Shifa has drawn widespread inter­national condemnation, with the World Health Organisation describing the hospital as a "death zone" after sending in a team to visit the facility on Saturday.
The visit came after hun­dreds fled the hospital follow­ing what Al-Shifa's director said were Israeli army orders for it to be emptied, with an AFP journalist seeing crowds of sick, injured and displaced people fleeing on foot.
Back to News