Nigeria :: News
Niger tanker explosion claims five lives, destroys seven vehicles
Oct 21, 2020
Source: CEOAfrica News; Reported by Onuh Joy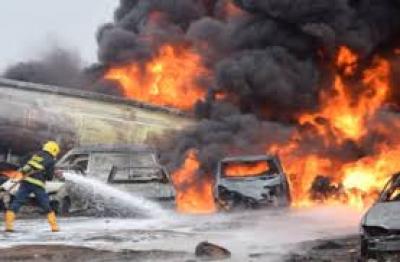 NIGER
At least five persons have been killed in a tanker explosion on Lapai-Agaie Road in the Lapai Local Government Area of Niger State.
While seven vehicles were destroyed, nine people were said to have sustained serious injuries in the fatal accident.
Confirming the incident, the Director-General of the Niger State Emergency Management Agency, Ibrahim Inga, described it as unfortunate and devastating.
Inga disclosed that prompt intervention by two firefighting vehicles from the Ibrahim Badamasi Babangida University, Lapai, and one from the Agaie LGA helped to stop further spread of the fire and additional loss of lives.
According to him, the incident occurred around 4am on Tuesday when a trailer driver overtook a fuel-laden tanker.
The trailer was said to have had a brake failure in the process and hit the tanker, which led to an explosion.
He also added that another tanker fell in front of Lapai LGA as fuel spilled to where many tankers were parked.
"Right now, members of the Niger State Emergency Management Agency, Road Safety Fire Service and chairmen of Lapai and Agaie LGAs are trying to provide a solution to that problem to avoid further calamity that may arise from the fuel spillage" he said.
Headlines (Nigeria):
Read our other news items below...