Nigeria :: News
No warehouse in Ogun was looted, stop tarnishing the image of governors- Gov. Abiodun
Oct 27, 2020
Source: CEOAfrica News: Reported by-Blessing Osajie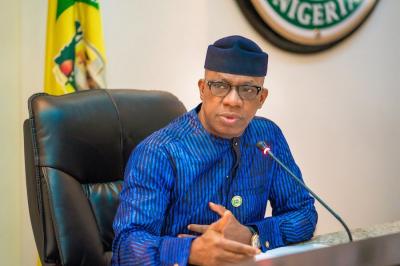 OGUN STATE
The Ogun State Governor, Dapo Abiodun, has raised the alarm concerning plots against him and other governors to paint them in a bad light.
Abiodun said on Monday that there was a burning desire to tarnish Nigerian governors image over the handling of the Coalition Against COVID-19 (CACOVID) palliatives donated to state governments.
Recall that a number of CACOVID palliatives warehouses have been looted in Lagos, Osun, Kwara, Plateau and other states in the last one week by the hoodlums.
The development has resulted in allegations that some governors kept the palliatives away from the public.
But Abiodun said, while addressing newsmen that a number of reports flying around over the palliatives were meant to paint the governors in bad light.
The governor made it known that while his state got the CACOVID palliatives in September, a number of states were yet to get theirs.
He explained that the #EndSARS protest initially delayed the distribution of CACOVID palliative in the state but not less than 18 out of 20 local governments in the state had benefited from the food items.
"So, the story that someone was stockpiling CACOVID palliatives is a misrepresentation of the truth. Nothing would have pleased us (governors) more than distributing those palliatives as and when due.
"When the supplies were done, we began to distribute in a manner that CACOVID recommended. By the time this #EndSARS protest started, we have done 50 per cent of the distribution.
"None of our warehouses (in Ogun State) was looted by anybody. We have successfully distributed about 18 or 19 LGAs as of today.
"These days, things are twisted. There is fake news everywhere.
"There seems to be a burning desire to paint and misrepresent government in a hurry", the governor said.
Headlines (Nigeria):
Read our other news items below...