Nigeria :: News
Yahaya Bello blames disbandment of SARS for present insecurity across the nation
Oct 27, 2020
Source: CEOAfrica News: Reported by-Blessing Osajie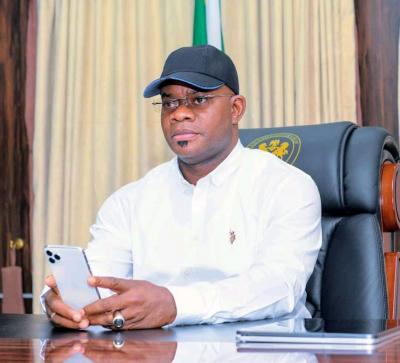 KOGI STATE
Kogi State Governor, Yahaya Bello, has blamed the seemingly lack of police response to the insecurity rocking the country on the disbandment of the Special Anti-Robbery Squad of the Nigeria Police Force which he said has dampened the spirits of police officers across the country.
The governor, in an interview on Channels Television's Sunrise programme which was monitored by CEO Africa, said that not everyone believes in the #EndSARS protests.
He added that the scrapping of SARS dispirited police officers and caused them to leave the streets which had in turn given hoodlums the opportunity to oppress the masses.
Recall that the Inspector General of Police, Mohammed Adamu had scrapped the special police unit in the wake of the #EndSARS protests against the brutality and extrajudicial killings allegedly perpetrated by ex-SARS operatives.
Adamu also announced a replacement for the police unit known as the Special Weapons and Tactics unit.
Nonetheless, there have been reports of hoodlums overpowering police officers to burn down police stations and other infrastructure they guard.
"Now SARS has ended, police morale has been dampened, they have gone off the streets, and the hoodlums have taken to the streets. Who do we report to?" the governor asked during the programme.
Also recall that Gov. Bello had earlier endorsed and drummed up support for the #EndSARS protest, even volunteering to lead the youths on a march to Abuja.
Headlines (Nigeria):
Read our other news items below...