Nigeria :: News
ASAN, NIAS confer double fellowship award on Dr.Adekoya Olatunde, say it calls for more responsibilities
Nov 21, 2020
Source: CEOAfrica News: Reported by-Joy Onuh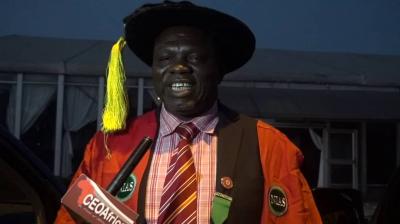 ABUJA
Animal Science Association of Nigeria (ASAN) and Nigerian Institute of Animal Science (NIAS) have conferred a double Fellowship Award on the Provost of Federal College of Animal Health & Production Technology, Ibadan, Dr. Adekoya Olatunde Owosibowith over contributions made to the development of Animal Science in Nigeria.
The fellowship's conferment was done at the 9th ASAN-NIAS Joint Annual General Meeting(AGM), tagged Abuja 2020 with theme: "Improved Technology: A key Strategy for Enhanced Livestock Productivity and National Economic Development', which took place at Evelyn Recreational and Events Center, Abuja.
Dr. Owosibo was one of the Animal Scientists inducted as fellows by ASAN-NIAS at the 3-day event where practicing Animal Scientists from around the country gathered to discuss key issues related to Animal Science development.
In an Exclusive Interview with CEOAFRICA, Dr. Owosibo expressed gratitude to the association and also commended its leadership. He promised to continue contributing his quota to the profession, adding that the induction calls for more responsibility.
"By God's grace, it calls for more responsibility on my side, and I promise that the practice of Animal Science profession in Nigeria is of standard and to make sure that anywhere I find myself, I will not do anything that will violate the constitution of Animal Science," he said.
Speaking further, the newly conferred fellow, Dr. Owosibo said he would do everything within his power to promote the profession in Nigeria as a whole.
He added that 2020 has been a significant year, while reiterating his appointment as the Provost, College of Animal Science & Health Production Technology, Ibadan in August.
Headlines (Nigeria):
Read our other news items below...