Nigeria   ::   News
Four players, club president, pilot die in plane crash
Jan 25, 2021
By: Abara Bleesing Oluchi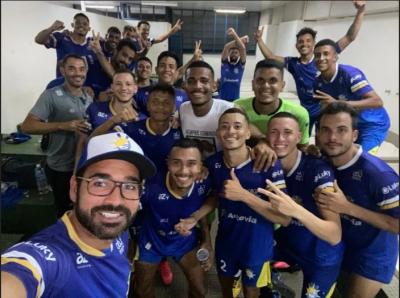 Lucas Meira, club president and the players pose for selfie
BRAZIL
The president of the Brazilian fourth-tier men's club Palmas Futebol e Regatas, Lucas Meira together with four footballers of the same club have died in a plane crash.
The pilot also died in the accident shortly after take-off on Sunday in the central Brazilian state of Toncantin, the club announced.
The deceased were on their way to the city of Goiania, where Palmas were due to play a match in a regional cup competition on Monday.
The development led to the match being postponed indefinitely, according to the Brazilian football association.
Victims were remembered with a minute's silence in every match in Brazil on Sunday.
FIFA promptly issued a condolence message: FIFA offers its condolences after a plane crash tragically claimed six lives in Brazil – including five members of Palmas Futebol e Regatas.
"Football extends its deepest sympathies to the victims and their families at this difficult time".
CEOAFRICA recalled that in November 2016, a plane belonging to Brazilian football team Chapecoense crashed on its way to Medellin for the Copa Sudamericana final first leg in Colombia.
Seventy-one people were killed, including almost all the players as well as crew, coaches and journalists travelling with the team.
Six passengers survived.
The Colombian aviation authority later identified a lack of fuel as the cause of the tragedy.
  Headlines (Nigeria):
Read our other news items below...