Nigeria   ::   News
African Pride: Celebrating the life and time of Abubakar Tafawa Balewa
Apr 07, 2021
Source: CEOAfrica News: Reported by- Abraham Adzashoja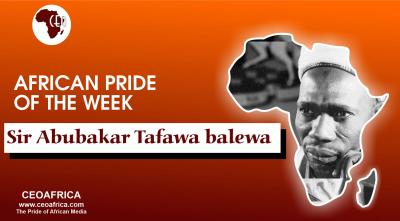 Where you start in life doesn't count as much as where you end up. Thus, the end of someone's life is always of more significance than their beginning. Sir Abubakar Tafawa Balewa was a Nigerian politician who though he came from a humble background, rose to the exalted position of becoming Prime Minister of Nigeria. He was the first and only Prime Minister of Nigeria. Today, CEOAFRICA takes a look at his life.
Abubakar Tafawa Balewa was born to Yakubu Dan Zala, a Gere tribal man in December 1912 in modern-day Bauchi State, in the Northern Nigeria Protectorate. His mother Fatima Inna was of mixed Gere and Fulani descent. His father worked in the house of the district head of Lere, a district within the Bauchi Emirate.
Tafawa Balewa became the Deputy Leader of the Northern People's Congress (NPC) at a time when it was unusual for a commoner to rise to such leadership position. His life was characterised by staunch patriotism and spirited advocacy. He campaigned for Northern special interests and advocated strenuously for reform and Nigerian unity. He has over the years come to be one of the most significant people in Nigeria's history.
Sir Abubakar was sent to London University Institute of Education in 1945 for further studies. He was among the first northerners to be sent to London for further studies. Whilst there, he did not only garner academic knowledge, he also gleaned a lot from the political climate he had come under, and also the one he had been exposed to in his studies. These became a solid bedrock to his political career and informed the success he later witnessed. When he returned in 1946, things hit the ground as he was elected to the House of Assembly of the Northern Region. The next year,1947 Balewa was one of five Northern representatives to the Central Legislative Council in Lagos.
Even though there were considerable levels of hostility towards him by some Northern Muslim Emirs, Tafawa was reelected to the National Assembly in 1951. He worked in the federal government from1952 until his death. He was minister of works and of transport in the middle 1950s, and then, as leader of the NPC in the House of Representatives.
Nigeria gained independence in 1960, but before then, there was a pre-independence elections in1959. The result of the election was that a coalition government was formed by the Northern People's Congress and Nnamdi Azikiwe's National Council of Nigeria and the Cameroons (NCNC). Tafawa Balewa was then chosen to be Prime Minister, and he continued to hold that position even after Nigeria gained independence.
As Prime Minister of Nigeria, his powers were restricted by the federal structure of government, which reserved more authority for the regions.As Prime Minister of Nigeria, he played important roles in the continent';s formative indigenous rule and was an important leader in the formation of the Organisation of African Unity (OAU) and creating a cooperative relationship with French speaking African countries.
There were national tensions between 1964–66 which was emboldened by a partial boycott of the election in 1964, army unrest, and outbreaks of violence in the Western Region. He was killed in the first of two Nigerian Army coups in 1966.
Balewa's portrait appears on the five Naira bank note. Tafawa Balewa Square Lagos, Bauchi State Airport, and the Foreign affairs complex are among places that bear this legend's name. His statue has been erected in Owerri, Imo State.
  Headlines (Nigeria):
Read our other news items below...