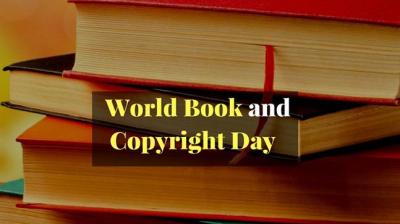 World Book and Copyright Day - Promoting Reading, Publishing and Protection of Intellectual Property
By:
Fri, 23 Apr 2021 || Nigeria,
Last year when most countries experienced periods of confinement and people were forced to limit the time spent outside, books proved to be powerful tools to combat isolation, reinforce ties between people, expand horizons, while also stimulating the minds and fostering creativity. 
April 23rd marks the anniversary of the birth or death of a range of well-known writers, including Miguel de Cervantes, Maurice Druon, Garcilaso de la Vega, Haldor Laxness, Manuel Vallejo, Vladimir Nabokov, Josep Pla and William Shakespeare. This makes the date symbolic for world literature.
For this reason, the United Nations Educational, Scientific and Cultural Organization (UNESCO)'s General Conference chose this date to pay tribute to authors, books, and the copyright laws that protect them.
World Book and Copyright Day,  also known as International Day of the Book, is a day to celebrate books as the embodiment of human creativity and the desire to share ideas and knowledge. The idea for celebrating this day originated in Catalonia, Spain where they regard the 23rd of April as St George';s Day – a day whereby the rose flower is traditionally given as a gift for each book sold.
The day sets in motion a range of events and activities channelled at the promotion of good reading culture among people. These events also emphasise reading of books and plays, recitation of poems, publishing and discourse on the laws of copyright and the protection of authors'; intellectual property.
As a symbolic date in world literature, April 23rd is often marked by celebrations all over the world to recognize the magical power of books as a link between the past and the future and as a bridge between generations and across cultures.
On this occasion, UNESCO and other international organizations representing the three major sectors of the book industry - publishers, booksellers and libraries, select the World Book Capital for a year to maintain, through its own initiatives, the impetus of the Day's celebrations. It is in line with this tradition that the Director-General of UNESCO, Audrey Azoulay, named Tbilisi (Georgia) as World Book Capital for the year 2021, based on the recommendation of the World Book Capital Advisory Committee.
It is important to note at this juncture that the city of Port Harcourt, Nigeria was announced UNESCO's World Book Capital back in 2014 beating 10 cities, including Oxford, England to clinch this coveted title. However, it's now the turn of Tbilisi, Georgia to adorn this "crown" for a year.
World Book and Copyright Day creates an avenue for the exploration of the publishing world. According to UNESCO, the commemoration examines "books as vectors of values and knowledge, and depositories of the intangible heritage." The day also highlights books as windows onto the diversity of cultures, tools for dialogue, source of material wealth and copyright-protected works of creative artists.
By championing books and copyright, UNESCO stands up for creativity, diversity and equal access to knowledge through the promotion of literacy and mobile learning. And also advancing open access to scientific knowledge and educational resources.
With the active involvement of all stakeholders: authors, publishers, teachers, librarians, public and private institutions, humanitarian NGOs and the mass media, and all those who feel motivated to work together in this world celebration of books and authors, World Book and Copyright Day has become a platform to rally together millions of people all over the world.
Hence, it is another time of the year to celebrate the importance of reading, foster children's growth as readers and promote a lifelong love for work of art and literature.
Photo: UN - Four-year -old Xima Awada Yakub (left) and her sister, Zamai, reading books at the newly restored library at the Cultural Centre in El Fasher, North Darfur.
Back to News