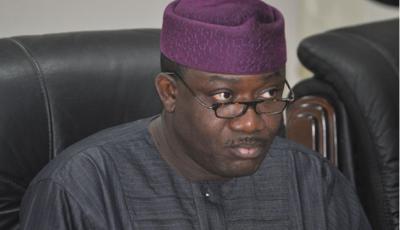 2023: VON DG, Okechukwu tackles Fayemi over alleged inciting comment against APC
By:
Mon, 3 May 2021 || Nigeria,
NIGERIA- Monday, 3 May 2021: Director General of the Voice of Nigeria, Osita Okechukwu, has accused Ekiti State Governor, Kayode Fayemi, of inciting Nigerians against the ruling All Progressive Congress (APC).
The DG on Sunday gave the allegation during an interview with newsmen in Abuja.
 Fayemi, while speaking at 'The Platform', an annual programme organised by Covenant Christian Centre on Saturday, had said "If your search is a regime change in a democracy, there is only one way for regime change in a democracy. You work towards it.
 "Another election is going to come if you do not like what APC is doing, stop agonising, organise against the party. Link up with others who are organising and then kick the APC out of office and put people that you think will do better."
Okechukwu reacted to the statement, saying Gov. Fayemi, a high-ranking member of the APC, shouldn't have used The Platform to cast the APC in bad light.
He advised that the Ekiti state Governor should have in place, use his position as Chairman of the Nigeria Governors' Forum to unlock democracy at the state level.
 "Is it politically correct for a person of his caliber to use such a worldwide audience and uncommon platform to incite people against our great party?
 "Yes, one agrees with him that there are competing narratives and some unforced security errors were made. But one expected him to use his acclaimed intellectual prowess to mobilise his fellow governors to unlock democracy at the state and local government tiers.
"In the market place of restructuring APC is marked Zero percent, whilst we scored more than 40 per cent in opening the frontier of democracy with independent judiciary and legislature at the state level. That's real restructuring," Okechukwu stated.
He added that "A diligent party leader could have commenced mobilization of his colleagues in 2018, the day President Buhari signed the amendment of Section 121(3) into law."
Back to News