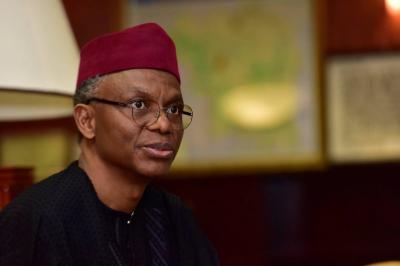 NLC president blasts El-Rufai, says governors not paying minimum wage don't mean well for Nigeria, workers
By:
Mon, 3 May 2021 || Nigeria,
KADUNA- Monday 3 May 2021:President of Nigeria Labour Congress (NLC), Ayuba Wabba, has berated Kaduna State Governor, Nasir El-Rufai, for describing the workers as "a micro minority", adding that the governors who are not paying the minimum wage or not taking the welfare of the workers as importance do not mean well for the country.   
The Kaduna State Governor had earlier stated that "The public service of the state with less than 100,000 employees and their families) cannot be consuming more than 90% of government resources, with little left to positively impact the lives of the more than 9 million that are not political appointees or civil servants.
"It is gross injustice for such a micro minority to consume the majority of the resources of the State."
Reacting to the statement, Wabba, while appearing on Channels TV's Sunrise Daily, lamented that El-Rufai's comment was a disregarded to the efforts of the workers who ensure the smooth running of his administration and that of the health workers working tirelessly to curb the spread of COVID-19 in the country.
Wabba stated that "Political officers holders are not earning on the basis of ability to pay. But when it comes to workers, you now say no ability to pay. Government must lead for other employers of labour to follow. Government must look at itself as the representative of the people.
 "The primary purpose of a government is security and welfare of the people.
"How can you say our armed forces, doctors, nurses, and other utility service providers are a tiny minority. That is the type of thinking from a governor. How many politicians do we have and see how much they are consuming.
"If you put it side-by-side, what the workers are earning is legitimate. What the political officeholders are earning is illegitimate."
The labour leader also clarified that the current wages cannot meet up the cost of living in Nigeria.
He buttressed that "A bag of rice today is N30,000. If you have a family size of eight (father, mother, children and their parents), in one month, you cannot be eating rice, you have to pay rent. When you look at the cost of living index, it is clear that it is not something that can sustain a worker. Even daily pay now is N2,000 per day and when u put that together it is N60,000.
"Yet, in a structured economy like Nigeria, we are in a very sorry situation. The situation continues to degenerate.
"Recall that the first minimum wage by Shagari in 1981 was more than 125 dollars. Today, it is not more than 60 dollars because of the dwindling fortune of our economy.
"Those that are not paying, certainly, don't mean well for Nigeria and our system."
Back to News