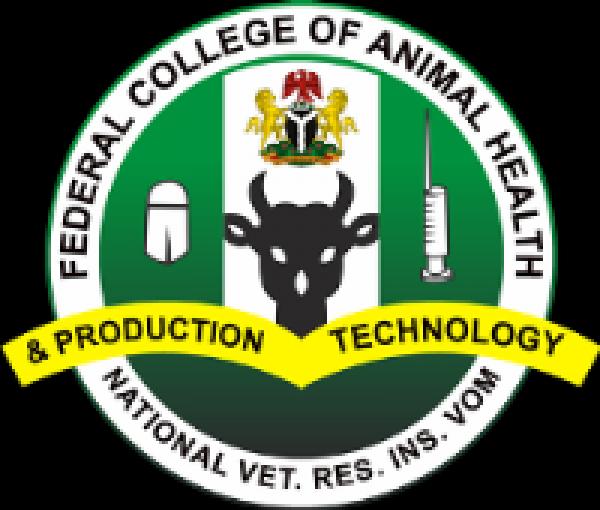 FCAH&PT researchers call for synergy on research work in Nigeria
By: Abara Blessing Oluchi
Thu, 29 Jul 2021 || Nigeria,
Thursday- 29th July, 2021: Researchers at the Federal College of Animal Health and Production Technology, (FCAH&PT), Moor Plantation, Ibadan have called for mutual cooperation on research development between government, industries, and academicians in the country in order toenhance effective and efficient research output.
The call was made at a2nd Annual Conference and Call for Paper held at Dr. K.J. Nwufoh Hall, FCAH&PT.
The conference which was hosted by Dr. A.O. Owosibo, provost of the institution was themed "Technology and Innovation: Panacea for Nigeria's Growth and Development in the Post Pandemic Era."
The researchers after series of presentationsand deliberations on research findings arrived at a conclusion on the need for synergy among government, industries, and academician for smooth research conduction.
in the course of his presentation, a researcher, Engr. Azeez Adedayo Afeez of department of Agricultural and Bioenvironmental Engineering, Federal College of Agriculture, Ibadan, who presented a paper on "Effects of some Agricultural waste water on the electrical output of a Microbial Fuel Cells (MFC)," analyzed the rationale behind the research conducted which is to define another means through electrical power can be generated.
He said MFC is a kind of alternative energy source which is an electro chemical device that convert the chemical energy present in the organic matter into electricity through metabolic activities of living organism cells that serve as biocatalyst.
He noted that MFC is a new innovation that researcher recently came up with, which can be connect to series of cell and generate electrical power that can be useful in the farm.
He added that it can be useful in carrying out some farm activities that does not require much electrical power.
In an Exclusive Interview with CEOAFRICA, Engr. Afeez stated that the purpose of the research is to enlighten individuals that farm waste can still be useful by converting it to generate power.
He said "as we are familiar with renewable energy like solar cell, wind mill and the rest, MFC is an innovation machine in renewable energy.As we produce a lot of waste on our farming environment, let's take for example in our fish farm, the waste water normally release to outside wall can be used to generate power which can also be used to power some aspect of the farm
"What MFC does is that the micro present in the waste water can be used to exinite proton and electrons, as it is designs in a way that the potential in the micros contained in waste water up-surfingcan be utilize to generate power for agriculture purpose".
The engineer added that as there are different kind of waste in agriculture like residue, animal dunks and many more, a device through innovation can be inventwith purpose of increasing the volume of micros in the waste products which can be used to tap electrical power from the waste product.
He said that all these can be actualize through adequate fund, as he urged government to formulate an awareness program to sensitize people on the importance of agricultural wastesand its useful.
Mrs. Alade Oluwatoyin Adenike, a researcher of Biotechnology Development Centre, Oka-Akoko, Ondo State, who spoke on "Supplementing Clove Powder in Broiler Feed" explained that clove powder can aid rapid and healthy growth of broilers.
Adenike said the essence of the research is to eradicate any form of contagious disease from birds especially broilers which research shown human being takes often.
Adenike noted that there is a clear distinction between a broiler feed with clove powder with the one feed with zero powder, adding that clove powder serves as protein which enhance rapid growth of the broilers, at the same time increase its vitaminreaches and add to its weight.
On his part, Taiwo Oludare, a lecturer at the Federal College of Animal Health and Production Technology, (FCAH&PT), Moor Plantation, Ibadan, in his paper presentation "Marketing Efficiency of small ruminant farmers in some selected local government area of Oyo State" said the research work is to look into the marketing efficiency of the farmers on how they produce and sale easily and their rate of returns on the investment.
Taiwo said the research was carry out because Nigeria is the largest producer of small ruminant animal in West Africa, added that sheep and goat are integral parts of livestock keeping in sub-sahara Africa, mainly kept for immediate cash source, milk, wool, manure.
This research intends to enlighten Nigerian as goat and sheep is the most predominantly reared small ruminant animal in Nigeria which represent 70% of all the ruminant animal reared in Nigeria.
He added that from the research findings, it was discovered that the cost of production which is a means to compute marketing efficiency is very high meaning that the cost of transporting of the animals to market and the cost of production has significant influences on the marketing efficiency especially for goat and sheep.
He advised the ruminant farmers to adopt cluster point which shows the responsibilities between wholesaler, retailer, and the consumer as all the cost will be distributed across the board.
He also advised youth to participate in agriculture especially ruminant production which he described as a lucrative business.
An animal researcher from the University of Ibadan (UI), IkimatOpeyemi Tiamiyu expatiated on the Determination of Phytochemical composition in Telfaria Occidentalis using different fertilizer basically organic and inorganic manure. In her presentation said the research intend enrich the farmers on how to make use of poultry manure in planting Telfaria popularly known as Ugwu in Nigeria.
In her response to research outcome said,"a selection was carried out between organic and inorganic fertilizer and the organic fertilizer selected were cow dunk and poultry manure, while selected inorganic fertilizer were NPK and ureal"
Mrs. Tiamiyu, in her response to the aims of carrying out the research said "we basically identify that farmers plant Ugu which might not have the nutritive satisfaction that we actually need in our body as every plant has its antioxidant and antinutrient, it should be understand that antioxidants fight against diseases while antinutrient works to inhibit digestion
She said "research shows that plant that has high antioxidant could be regarded as the one very viable and good for consumption".
She added that the research tends to check on which planting method will give the body high antioxidant that will provide optimum nutrient satisfaction.
She encouraged the farmers to adopt the use of organic fertilizer most especially the poultry manure as it gives high antioxidant and less antinutrient as it was discovered in the research conducted.
The researchers concluded that if the industries show interest on new innovation or research findings, it will automatically draw the government attention to it and make government show interest.
Back to News