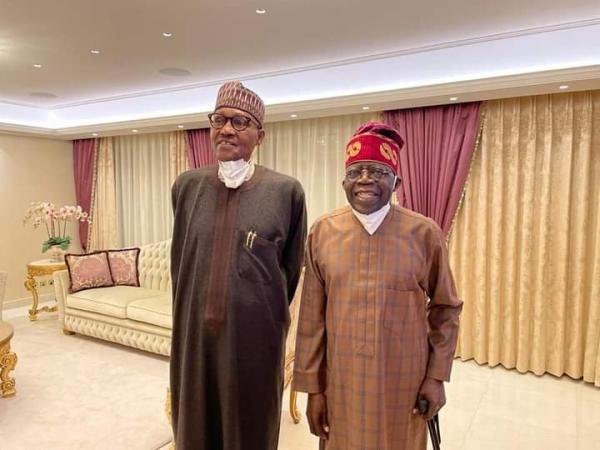 President Buhari's visit friendly: Tinubu issues statement
By: Cletus Sunday Ilobanafor
Sat, 14 Aug 2021 || Nigeria,
LAGOS- Saturday 14 August 2021 All Progress Congress National leader, Bola Tinubu, has issued a statement over President Muhammadu Buhari's visit to his apartment in London.
The APC national leader, in a statement signed by his Media Adviser Tunde Rahman, thanked the president for visiting him.
Tinubu noted that President Buhari demonstrated personal thoughtfulness and humility to visit him.
"All Progressives Congress national stalwart, Asiwaju Bola Tinubu, has expressed thanks to President Muhammadu Buhari for visiting him in London on 12 August, the statement read.
"The visit was a friendly and welcome one that underscored the considerate and caring personality of our nation's President and Commander-in-Chief.
"By this gesture, Mr. President has, again, demonstrated his personal thoughtfulness and humility; defying the erroneous commentaries peddled by his critics, the statement read.
Femi Adesina says Buhari wont dare to endorse Tinubu or anyone before 2023
Rumors had it previously that the former Lagos governor traveled out of Nigeria and was hospitalised in Maryland, the United States.
However, the rumor was dispelled by his media adviser, Mr Rahman.
He noted that Tinubu had no medical problem that would require hospitalization. The former Lagos governor apparently was in the UK.
President Buhari who also traveled to the UK to attend an international summit on education and also to see his doctors surprised Tinubu with a visit on Thursday night.
Before Buhari visited Tinubu, Lagos State Governor, Babajide Sanwo-Olu visited the APC stalwart in London and took photos with him to dispel rumors he was hospitalized.
Back to News