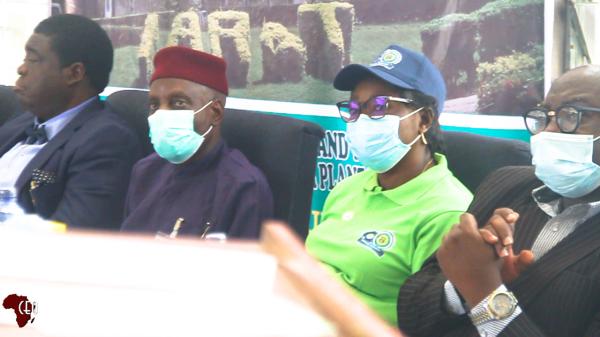 IAR&T Ibadan holds lecture to celebrate OAU @ 60,OYSADA Boss calls for support for reasearch institutes
From: Kelvin Ugo Ubaka
Fri, 26 Nov 2021 || Nigeria, Osun state
In commemoration of the 60th Anniversary celebration of the Obafemi Awolowo University, Ile-ife, the Institute of Agricultural Research and Training (IAR&T), Obafemi Awolowo University, Moor Plantation, Ibadan, held a lecture on Thursday CEOAFRICA reports.
The lecture tagged "Influence of Agribusiness on Sustainable Food Production: The Role of University Based Research Institutes held at the University Quadrangle, beside Oduduwa Hall, OAU, Ile-ife.
Dr. Adeola Odedina,Honourable Commisioner of Agriculture, Ogun State who was Chairman of the day at the occasion stressed on the need for states in Nigeria to not only embrace research in agriculture but to adequately support research institutes in bettering the lot of Agriculture.

The Executive Director, IAR&T, Prof. (Mrs.) Obatolu Veronica, in her remark, said "Agriculture has always been a key potential strength to Nigerian's economy. Recent years has witnessed a significant increase of concern on sustainably improving agricultural food system to meet the increasing demand and enhancing the livelihoods of small-scale and family farmers.
"In line with this, the Institute adopts an integrating research rooted in farmers' priority needs linked to training, extension and farmer reality with a vision to be an Agricultural Innovation and Development Centre (AIDC) driven by research, technology transfer, innovations, knowledge and approaches that will contribute to an improved quality of life for all Nigerians and a mission to contribute to sustainable rural development through demand-driven and appropriate technologies."
Vice-Chancellor of the University, Prof. Eyitope Ogunbodede, represented by his Deputy, Prof. Yomi Daramola, expressed appreciation to the IAR&T management for joining the University in celebrating 60 years of its existence while describing the day as 'IAR&T day'.
Guest Lecturer, Dr. Debo Akande, stressed on the need for improved technology in Agricultural practices in the country.
"while we are still talking about technology some other nations are already looking at the procession of Agriculture, meaning that we can have a machine that it still woeking on the soul and the same time providing different seeds for every location.
"This means that we cannot all be sick and what has been prescribed to us is Phensic because its what is going on now, whenever you want to apply fertilizer they say NPK and we still continue to follow same pattern all this years.
"The academic institution are in the best position to take leadKership through research, innovation and development of knowledge economy.
"They could shapen policies, strategy and program through partnership with the public and private sector."
Speaking extensively in a chat with CEOAFRICA, Prof Obatolu said "OAU has given IAR&T a day out of the days of the celebration to display the development of our technologies. That is why we have taken advantage of the day to showcase through exhibition what IAR&T stands for and what we have have been able to achieve."


Other dignitaries who graced the event were, Royal Father of the Day, HRM. Emmanuel Oyeleso, Fadare II. Olupo of Oluponna, Osun State, Guest Lecturer, Dr. Debo Akande, the Director General , Oyo State Agric Business Development Agency (OYSADA.), Prof. Charles Ukaeje, Head of Planning Committee OAU @60 amongst several others.
Back to News