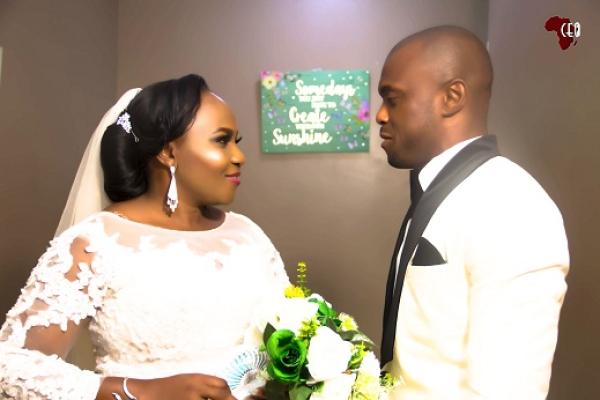 Chika Gloria and Odilichukwu Lazarus ties the knot (Photos)
By: Abara Blessing Oluchi
Sat, 27 Nov 2021 || Nigeria, Lagos State
It was a moment to remember as families, friends and well wishers gathered on the 20th of November, 2021, to witness the solemnization of Holy Matrimony between Chika Gloria and Odilichukwu Lazarus.
The wedding took place at the St Anthony Catholic Church, Gbaja Street, off Akerele street, by Shitta roundabout, Surulere lagos State.
Speaking with CEOAFRICA, the happy bride, Mrs Chika Gloria showered praises on her husband, describing him as a very caring and cheerful man.
She said "he is a very caring man, in fact I will say he's Godsent. He is a very cheerful and God fearing man which is the most important thing and why I love him so much."
The groom, Mr Odilichukwu Lazarus in his words described his bride saying "she is an outstanding and great woman, in the times we have spent together, she has shown some kind of extraordinary acts, I mean that resilience that you find in very few women.
"She wants things to workout, to be good, to be perfect for the family and that's why I always run to her because she has shown herself worthy."
See more photos below:
Chika Gloria and Odilichukwu Lazarus ties the knot
Chika Gloria and Odilichukwu Lazarus ties the knot
Chika Gloria and Odilichukwu Lazarus ties the knot
Chika Gloria and Odilichukwu Lazarus ties the knot
Chika Gloria and Odilichukwu Lazarus ties the knot
Chika Gloria and Odilichukwu Lazarus ties the knot
Chika Gloria and Odilichukwu Lazarus ties the knot
Chika Gloria and Odilichukwu Lazarus ties the knot
Chika Gloria and Odilichukwu Lazarus ties the knot
Chika Gloria and Odilichukwu Lazarus ties the knot
Chika Gloria and Odilichukwu Lazarus ties the knot
Chika Gloria and Odilichukwu Lazarus ties the knot