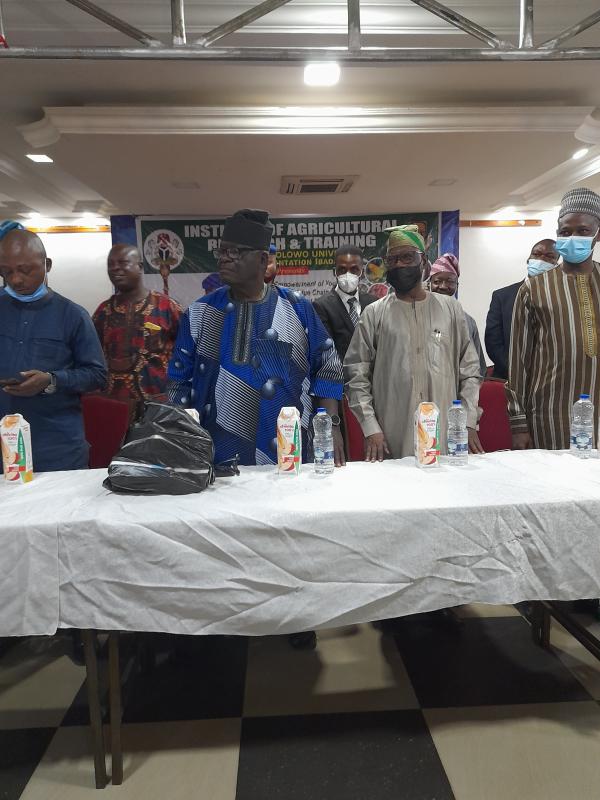 IAR&T hold 4th training and empowerment program to foster Investment opportunities in Agricultural Products
By: Abara Blessing Oluchi
Wed, 2 Feb 2022 || Nigeria,
The Institute of Agricultural Research & Training, (IAR&T) More Plantation Ibadan on Monday hosted the fourth training and empowerment of Youth program to foster the Agricultural Value chain in the country.
The program lecture tagged "Investment opportunities in Agricultural Value Chain" was held at Alice place, Ibadan and was facilitated by Senator Kola Balogun, the Senator representing Oyo South senatorial district in Abuja.
Speaking at the event, the Executive Director of IAR&T Professor Varonica Obatolu in her opening speech urged the participant to maximize the opportunity given to them through this training to secure their future and even become employers of labour .
Obatolu who was ably represented by the Deputy Director, Dr. Jelili Olaide appreciated Senator Balogun for his commitment towards empowering women and youth through Agriculture which is the only way for Nigeria to attain food security
Professor B.I. Idowu while delivering her lecture emphasizes the need to convert some of the agricultural product into marketable commodity. She listed some of the ways they can add value to these agricultural products; which are transporting the products, providing equipment to farmers and packaging.
Professor Idowu told the participant that IAR&T just released 4 highly yielding crops which she taught the trainees on how they can market it and use it to feed their household.
Idowu advised the participant to visit the institute to learn more on how to go about adding value to these agricultural products that has been listed in the training,
Speaking at the occasion,, the Facilitator of the empowerment programme, Senator Kola Balogun commended the Oyo State government for all the government is doing for the good people of Oyo State .
The lawmaker stated that the reason why they are holding this program using IART&T as the institute for training is to empower traders on Agricultural products.
Senator Balogun, further said that if it was only an empowerment program, the meeting would have lost its relevance but to make sure that the empowerment is fully maximize, the Institute of Agricultural Research & Training, (IAR&T)was called on to train beneficiaries on what to do with what they will get as support.
Speaking with CEOAFRICA; one of the trainees, Adegbete Tawa, thanked IAR&T and Senator Kola Balogun for considering such initiative for the good people of Oyo State. She said they were thought how to rear fish, snails and many more.
Present at the training and empowerment program is Honorable AkinsolaAyuba ,PDP Chairman, Ido Local Government and many others.
Back to News