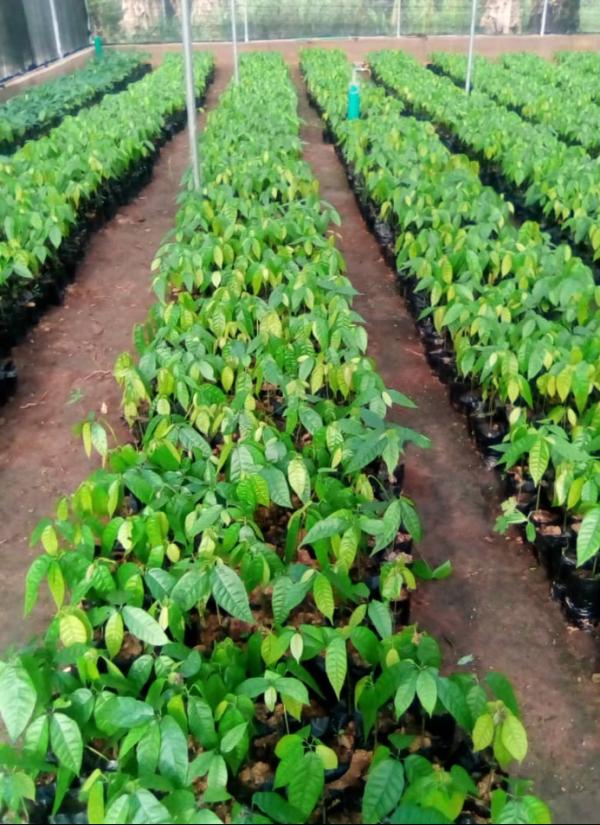 CSR: CRIN trains farmers, distributes over 300, 000 hybrid cocoa seedlings
By: Cletus Sunday Ilobanafor
Fri, 1 Apr 2022 || Nigeria,
As part of Corporate Social Responsibility, the Cocoa Research Institute of Nigeria, CRIN, Ibadan, embarked on distribution of cocoa hybrid seedlings to farmers and organised training on Cocoa processing for quality flavour.
The Institute did this in partnership with the Federal Ministry of Agriculture and Rural Development (FMARD) for the distribution of cocoa hybrid seedlings to farmers in Ibadan and the Substations.
CEOAFRICA gathered that the process of raising the seedlings began in November, 2020, when the Production and Substation Department of the Institute, headed by Director, Dr. Moses Ogunlade, was mandated to produce cocoa seedlings for distribution for the 2021 season.
Following the project, which was stacked in different stages; it started with the clearing of shade nets and filling of top soil into polythene bags, planting, sorting and maintenance of the seedlings which was very successful; with the managerial ability of the institute Executive Director, Dr. Patrick Adebola.
Meanwhile, over 300,000 seedlings have been distributed to farmers in the following States; Osun, Ogun, Oyo, Kwara, Ondo, Ekiti, Kogi, Edo, Delta, Anambra, Abia, Akwa Ibom and Cross River; as the representatives of Cocoa Farmers Association of Nigeria (CFAN), Cocoa and Plantain Farmers Association of Nigeria, Cocoa Association of Nigeria (CAN), Multipurpose Cooperative Unions, Ministries of Agric and Tree Crop Units of the States were on hand as the delivery of the hybrid cocoa seedlings was successful.
It was also mentioned that the organised training was on cocoa flavour quality that encompassed the harvesting of quality cocoa pods, breaking and fermentation of the beans under a natural shade, drying on raised platform and sensory analysis. The programme was geared towards entrenching right practices among cocoa farmers so as to enhance quality cocoa flavour.
Back to News