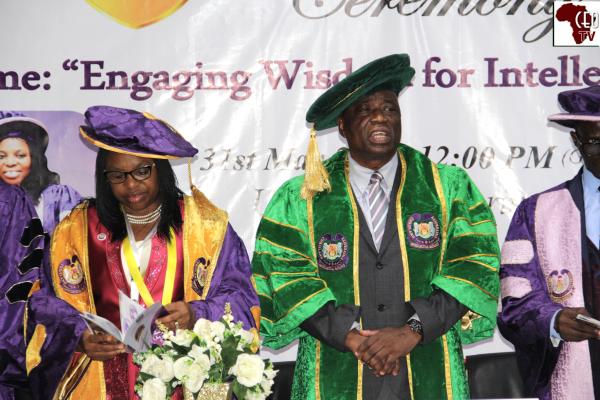 Envision a mental image of a desirable Future- Fijabi advises Chrisland University Matriculating Students
By: Abara Blessing Oluchi
Fri, 3 Jun 2022 || Nigeria,
The matriculating students of Chrisland University, have been admonished to envision a mental image of a desirable future they would want to attain in life. The admonition came from a notable entrepreneur, life Coach and motivational speaker, Engr. Abiodun Fijabi who was Guest Speaker at the 7th Matriculation Ceremony of the University held on Tuesday, 31st May, 2022 at the main campus, Abeokuta. A total of 381 students took the Matriculation Oath for the 2021/2022 academic session.
Fijabi, addressing the matriculants with the theme "Engaging Wisdom for Intellectual Radiance", charged them to be more deliberate and intentional throughout their academic sojourn in the University. Fijabi whose lectured spanned over 55 minutes said; "Vision is your commitment to what should be. It is seeing and identifying a status quo. And, you must take a risk to get to your destination. Turn all your mistakes into a learning point. But above all, avoid vision killers and distractions as well as make decisions about yourself.
"As you are starting this journey, you must ask yourself, Who am I? You must be able to define yourself with reference to God. The real deal is your relationship with God. Do not let anyone consider you as a number. You are much more than just a number.
"You are a voice to be respected. You are a human to be honoured. Recognizing this will change your perception; it will impact your knowledge; it will impact on decisions you make in your academics. It will impact on the way you live responsibly among your colleagues, it
will impact on the way you obey the law and order of the University.
"You also need to ask, what are my potentials? Because as a leader, one of the greatest things you could do is to live out your lives to the fullest. God has given you skills, potentials. Potential is a talent that makes you different from others and announces you to the society.
It cuts you out from the rest of the people. It is like an egg waiting to become an omelet or chick. It is God's gift to you and to the world that you live in. You must know that everyone has potentials. You couldn't have been created without potentials."
According to him, putting God first will launch one into greatness and excellence, adding that God has put in every human a potential to make them stand out.
Engr. Fijabi who is the Chief Executive Officer, Lord Princely Associates, advised the students to be determined when challenges arise and approach problems without fear, noting that problems are preparation for greatness.
"One of the reasons why people do not recognize their potentials is because potentials are never enough. Just like a raw egg is never enough. In every egg lie great potentials of chicks and omelets. But the eggs must be first cracked and put through a process to release its
potential. If you want to develop your leadership skill, you need to redefine all your problems and make them a challenge. Challenges of life will make you seasoned.
Back to News