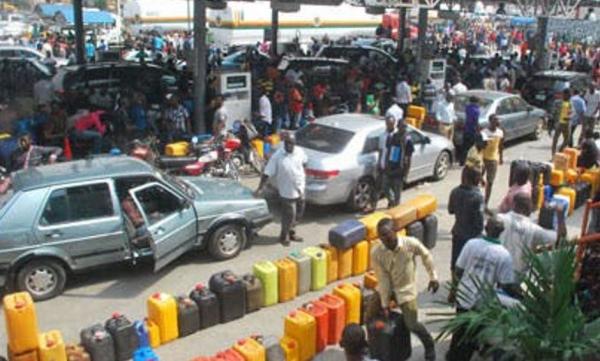 Commuters stranded as fuel scarcity hits Lagos
By: Abara Blessing Oluchi
Mon, 20 Jun 2022 || Nigeria,
Fuel scarcity has resurfaced in Lagos state leading to a long queue for the product.
Queues have been noticed at the Mobalaji Bank Anthony way on the mainland and also in some parts of the Island.
It was reported that 77the queues is as a result of aggrieved members of Petroleum Tanker Drivers and the Nigerian Association of Road Transport Owners NARTO who have repeatedly complained about the rising cost of diesel affecting their operation.
According to the tanker drivers, they use diesel to power their trucks and the rising cost of the product is preventing them from moving the petroleum products from the depots to the fuel station.
They say the cost of bringing petroleum products to fuel stations has become alarmingly high.
Reacting to the recent scarcity, the National Operations Controller, IPMAN, Mike Osatuyi, attributed the present scarcity to inadequate supply.
According to him, his members had not been getting supplies in the past three days.
He also complained about the high cost of moving petrol from one point to another.
"We have not been getting supplies in the past three day, which explains why many independent marketers have exhausted their stocks. Also, it should be noted that we get the product at N163 per litre and sell to motorists and other users at between N180 and N200 per litre.
Moreover, the high price of diesel, which currently stands at N820 per litre, has compelled us to spend as much as N500, 000 and N800, 000 to take a tanker of the product from Lagos and Ibadan respectively."
Recall that last week, the Natural Oil and Gas Suppliers Association said that diesel might rise as much as N1500 in the coming weeks if nothing is done to address the situation.
The National President of the Association, Bennett Korie, said the only way to crash the rising price of Diesel is for the Federal government to increase the price of petrol.
''The only way out, if you want to know, is that they (the government) should increase the price of fuel a little to reduce the money spent on PMS subsidy.
I know Nigerians will not be happy to hear this, but this is the only solution. They should increase the price of fuel a little so that the savings will enable the Central Bank of Nigeria to have enough foreign exchange.
You and I know that we import everything now in Nigeria. Diesel is an imported product and it is fully deregulated. So the importers are not getting dollars at the official CBN rate to import diesel. Everybody is going to the black market to get dollars to import their products and so you expect the price of diesel to be high."he said.

Back to News